Professors speak for their 'Best Ten Minutes' during October
Faculty and staff from the department of Communication and Media Studies will be telling stories in an event on campus.
The second annual "Your Best 10 Minutes" is underway for the university as faculty and staff will present a story for the event. Organized by Dr. Joe Burns, assistant professor of communication, the event will include speakers in an atmosphere of entertainment in an academic manner.
William Robison, department head of history and political science, explained what he appreciates from last year's event and what amused him.
"I have enjoyed the event and learned something from all the presenters last year, including Ben Norman, Jason Landrum and Rhett Allain," stated Robinson. "But, I found Matt Alford absolutely hilarious."
Robison, who is participating this year, has already hinted at what is different from last year's event, including a more structured system of speaking.
"Professor Burns has been improving the format since the first one last year," explained Robinson. "He has added a buzzer to the clock that he uses to time the speakers, which really makes you conscious of the time limit. He also reduced the number of speakers from five to four, which makes it possible to finish the program and still allow students enough time to get to their next classes. He also reminded this year's participants to focus on being entertaining and limit their use of Powerpoint."
The one message that should come across through this event, in Robison's words, is a realization that the educators participating are simply people with knowledge to share.
"I do think all the presenters will be good – I do not see this as a contest," stated Robinson. "As with everything, if I do my best, I will be satisfied. I do hope everybody will learn something, have fun, be seated and on time and listen attentively. And I do hope that professor Burns continues doing this and that faculty from all over campus will continue to volunteer to participate."
Todd Delaney, general manager and program director of the KSLU radio station shared a similar hope.
"I hope that students will be well-entertained," stated Delaney. "I hope that I am asked back and my presentation is well received. It's not a competition, it's a celebration of great teaching."
At the event, Robison shared that he will discuss personal accounts rather than history.
"I already have interest in history through events that my own department of history and political science sponsors annually," stated Robinson. "So, I am not going to talk about history or music. Rather, I am going to tell a story about how I ran a whiskey still at a Baptist college, watched my high school basketball team win the state championship, and attended an opera by Bizet all in one day. To find out how all that fits together, you are going to have to come to the program."
"Your Best 10 Minutes" will take place Monday, Oct. 7 at 1 p.m. in Pottle Hall. Burns, Robison, Delaney and Ben Bell, instruction librarian and professor of library science, will be speaking at the event.
Leave a Comment
Donate to The Lion's Roar
Your donation will support The Lion's Roar student journalists at Southeastern Louisiana University.
In addition, your contribution will allow us to cover our annual website hosting costs.
No gift is too small.
About the Writer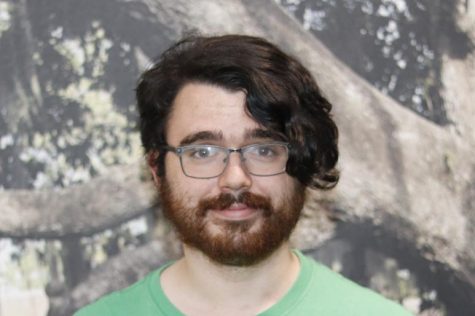 Andrew Jordan, Staff Reporter
Andrew Jordan is a Communications Major from Covington (originally from New Orleans). Jordan has been working as a staff reporter for The Lion's Roar since...