Editorial: Preparing for the paper's future
At the start of my freshman year, I looked for a job, and I found one. Guess what? I still work there.
Throughout the past two years at the Office of Student Publications, I have written around 200 stories and covered dozens of events for The Lion's Roar, and I am adding to that story total with this one.
Now, after an atypical change in my title – happening in the middle of the semester – from opinions editor to editor-in-chief, I hope to excel in bringing the college community closer.
Enough about my resume: Who am I, and why should you care?
I have lived in Greenwell Springs my entire life, which is the very eastern part of East Baton Rouge Parish. Growing up, I was one of those nerdy kids with high aspirations of becoming an astronaut or a mathematician. I loved being outside, developed a knack for mental math, and always remained super competitive among my three other siblings.
From 8th to 12th grade at Catholic High School in Baton Rouge, there were a large number of downfalls, personal growth and self-discoveries that happened, too many to fit in newsprint. The most daunting of these self-growth scenarios occurred after being flooded out from my home for all of senior year.
During my last semester of high school in 2017, I decided to attend the university as an Honors student in the accounting program.
And oh boy, that was just the beginning.
Not once did I think that I would be the editor-in-chief of the student newspaper, especially by the beginning of my junior year. Furthermore, I am now a history and political science major minoring in biological sciences. I have re-morphed my personal career from my childhood, math-based mindset into one centered in law.
I still have a couple of years before entering law school, so my current priorities are my undergraduate degrees and my job. The classwork is going fine – the job is undergoing changes in a rapid proportion.
Not only am I constantly learning the new facets of my job title, but the work environment has changed too – having new staff reporters and learning a new work software for stories and assignments.
I have already lain some fresh and talented stories onto print due to the work and passion of our beginner reporters, and I am excited to see what the semester has for The Lion's Roar.
My main objective for my tenure is, whenever a reader engages with our work, to engage back.
If someone posts a comment on any platform or sends an email to [email protected], it means someone took the time to formulate a response, whether positive or negative, to the work that the staff produces. If someone reaches out to the newspaper wanting to feature an event or address a situation, it must be our duty to the community to engage with that call. If there's a voice wanting to be heard, I want to be that listening ear. It would be a disservice otherwise.
In addition, I strive to make our social media platforms more consistent and feature our content in a satisfying manner, all while sticking to our main goal: being a news organization.
To accomplish this, I will work with our editorial staff to make sure we chronicle events in a timely manner. Photos are crucial to making our campus coverage on Facebook and Instagram more palatable and easy-to-understand for our readers – I want our photography to speak thousands of words while our stories reporting accurate and timely coverage.
I have heard time and time again that the university feels like a community. Even when the coverage is not pleasant, such as a shooting on campus, it is our duty to inform the community with accuracy.
Throughout my campus engagement – from standOUT to Delta Omega Alpha, from Division of Student Affairs Ambassadors to the Southeastern Sociological Association, to several more organizations – I want the paper to truly encompass all of campus, especially organizations that engage with us.
To do this, I need your help. I want to know what things we have and have not done well throughout your time engaged with The Lion's Roar.
With whatever time I have, I strive to be an ambassador for the people of this campus. Through my position, I aspire to give back to the university that "feels like a community," through my service as the editor-in-chief.
You carve your own path. Be influenced by others and grow with the community that makes you feel most at home.
About the Writer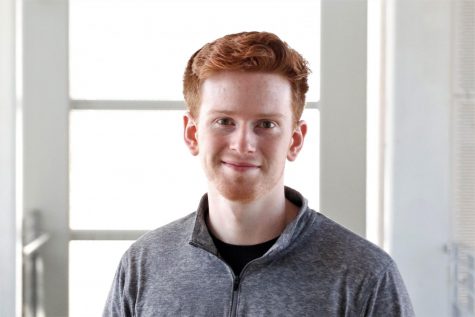 Jacob Summerville, Editor-in-Chief
Jacob Summerville, a history and political science major, has worked at The Lion's Roar since September 2017. A native of Greenwell Springs, LA, Jacob...