Forum explores complaints about preachers' hatred
Concerns from students and faculty reached administration and fueled the discussion of an hour-long meeting about free speech and community safety.
"The Students & The Public" was hosted by the Student Government Association on Tuesday, Oct. 1 at 6 p.m. in the Student Union Commons. The conversation invited the campus community to gather and share their experiences and thoughts about Consuming Fire Ministries, who have visited campus consistently in the past.
Students from standOUT participated in the discussion, voicing their concerns to a panel consisting of Dr. Gabe Willis, dean of students, Leah Cross, SGA chief justice, and Dr. Peter Emerson, interim director of the University Counseling Center.
Mark Clem, a freshman psychology major and member of speakOUT, shared that a preacher named Kevin has insulted bisexual and transgender students. Clem cited a short video, which has been reported to the dean of students, that shows this preacher saying, "I might as well rape her," to a student based on the way she was dressed.
Clem called for action, especially in reference to the university's "Vision 2025" plan.
"It was heartbreaking, enraging and even frustrating," said Clem. "Other trans students are deadly afraid, like I am, for their safety here on Southeastern's campus. Your 2025 plan encourages diversity and excellence, but where's the diverse positivity and safety for LGBT students, and even other minorities on campus? During this hate group's visit, where is the excellence in their disgusting, scary and hateful words?"
Willis explained that due to the brevity of the video, more evidence is needed to take any substantial legal action.
"We have already started to investigate that thoroughly, but we have to go through that entire process, and a short clip almost handcuffs us in a decision because it is a very short clip," discussed Willis. "In this open space, I'm going to ask: If you have a longer video where we have more context, if we can piece it together to know exactly what was said, how it was said other than that short clip, we will move on it."
During this meeting, Willis also clarified that any views expressed by the preachers do not reflect the values of the university.
Dr. Marc Settembrino, associate professor of sociology and faculty advisor for standOUT, stated that Consuming Fire Ministries is a hate group that has harassed students and faculty with homophobic slurs for the past seven years of his career.
"We have stood by for far too long and have remained silent for far too long to the point at which a student was threatened with rape, regardless of the context, is extremely horrific," said Settembrino. "As a faculty member at this university, I am ashamed that any of my students have to encounter that. I am tired. I am exhausted of working with crying students who have been belittled and have been reduced to nothing. I am tired of an administration that does nothing – that simply restates the law."
Sabrae Nasset, a sophomore general studies major and member of speakOUT, explained that ignoring the preachers entirely is an ineffective solution to the harassment.
"Some students may be one yell, one horrible shout away, from a horrible breakdown, and telling us to be silent, to let them speak louder when we know ignoring them will not work is, to me, telling us that we don't matter," shared Nasset.
According to state law, stalking is a form of harassment. Members of the assembly expressed that preachers have followed them throughout different points on campus.
Willis shared that he wishes to work more closely with the University Police Department to monitor these preachers' actions.
"I see conversation happening, I see yelling," said Willis. "But maybe we need to do a better job, from a police standpoint, from administration standpoint, seeing who's being followed. If that's the case, we need to do a better job."
Willis summarized what action can and cannot be taken against these preachers under state law and the First Amendment.
"If there is a line that we're crossing with harassment and anything else – being touched, being threatened with rape – we need to do better," explained Willis. "But simply speech that is distasteful to me or offensive to me, I can't choose to squash it and accept a different form of speech that I'm comfortable with."
Since state law has restricted the university's ability to govern free speech on campus, the assembly mentioned some ways that the administration can make LGBTQ+ students and faculty feel more welcomed.
Ideas prompted by members of speakOUT and agreed upon by the assembly include mandatory Safe Space training by faculty and staff, better promotion of LGBTQ+ resources on campus – especially Safe Spaces, inclusion of more gender-neutral bathrooms on campus, and listing a student's preferred name on their university ID.
Emerson shared that the "Here and Queer" support group is one of the largest on campus and that the counseling center is in the process of adding a second group session to the schedule.
The concerns of students from encounters with the preachers has caused many to visit the counseling center after the fact, so Emerson saw the discussion as a necessity.
"I think forums like this should be continued so you can continue to have your voice," shared Emerson. "You can talk to administration, and those that are in charge of policy and policy formation can be able to address those issues up front before they even get over to us."
Students who face harassment in any form are encouraged to contact UPD, or to use the Incident Report Form or the Lion Intervention Network on the university website.
About the Contributor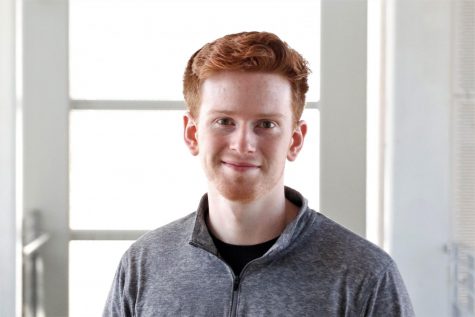 Jacob Summerville, Editor-in-Chief
Jacob Summerville, a history and political science major, has worked at The Lion's Roar since September 2017. A native of Greenwell Springs, LA, Jacob...