Faculty band 'Snake Hat' is an outlet for creativity
Some professors in the university also perform with their bands while they are not lecturing.
In 2017, four university faculty members formed Snake Hat, a band that spans over multiple genres from blues to alt-country to rock. The band is based in Hammond, Louisiana.
The band's original members were guitarist and vocalist Bill Robison, head of the Department of History and Political Science; drummer Ralph Wood, assistant dean of the College of Nursing and Health Studies; guitarist and vocalist Angie Wood, field coordinator of the Social Work Program and bassist James Worthen, assistant dean of the College of  Art, Humanities and Social Sciences. At the end of September 2019, Worthen stepped down from the band and was replaced by Randy Settoon, professor of management and former dean of the College of Business.
Angie Wood explained how the band was originally an outlet for the members' original music, and how things changed once Worthen left the band.
"It was really intended to be a creative endeavor," said Wood. "We really spend a lot of time focusing on original songs that we all wrote. With the change in the lineup, you have to consider each musician's strengths. I think with Jim Worthen in the band, we were very creative. So, we really focused on that strength of being creative. I think now with the change in the bass player, he will be singing with us. So, I think we're going to focus on songs that can kind of showcase the vocals."
Robison described his lyrics as having a southern gothic twist while Ralph Wood refers to their original material as alt-country Americana.
"The covers tend to have that kind of folky-rock, lots of heavy vocal stuff," stated Wood. "Then our original material is probably more in line with Lucinda Williams, Drive-By Truckers. There's a nice intersection between those covers we do and the original material. They complement one another."
Each member of the band has their own source of inspiration for their original material, ranging from their careers to their own personal life experiences.
On Sept. 27, the band played at Gnarly Barley Brewing Company. Robison believed that the high crowd turnout for the event spoke highly of the Hammond community because so many people came not only to their event, but to several other arts events occurring around Hammond that same night.
"It really speaks well of Hammond, I think," said Robison. "That night, there was Cabaret. There was Brewfest downtown. Joe Burns was 'Playing the Staircase,' and we played over at Gnarley Barley, and everybody had a crowd. That's pretty cool."
The band members elaborated on how their favorite aspects of performing range from enjoying each other's company to being well-received by an audience.
"For me, the great thing about performing is I get to work on a creative endeavor with people I'm friends with," explained Ralph Wood. "That really is about as good of an experience, if you're an artist of any kind, is to be able to perform and do your art for receptive people."
"I like to engage with people," stated Angie Wood. "We're all instructors, so we have some enjoyment of being in front of people. It's always better to do a workshop when my participants are engaging and enjoying it, so I feel like it's the same way when we play live."
There were a few challenges the band faced at the beginning, including a struggle to gain credibility as a group.
"Initially people didn't take us very seriously," said Robison. "They thought we were kind of a cute novelty act, a bunch of old academics who were playing guitars. But we've all been musicians all our lives."
In September 2019, the band released their first single "Silver Lining" followed by an EP. Currently, they plan on working to create more original music before performing again. They expect to stay off the stage until 2020.
The band's music can be streamed on Spotify, Amazon Music, Google Play, YouTube and Apple Music. Follow Snake Hat on Facebook for more information about their music and upcoming events.
Leave a Comment
Donate to The Lion's Roar
Your donation will support The Lion's Roar student journalists at Southeastern Louisiana University.
In addition, your contribution will allow us to cover our annual website hosting costs.
No gift is too small.
About the Contributor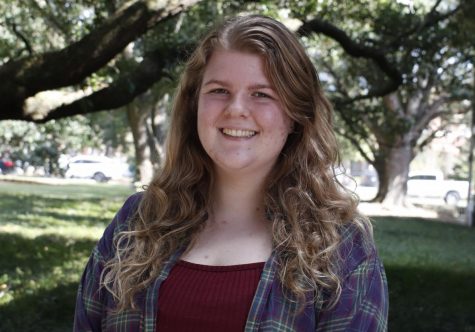 Maggie Tregre, Co-Editor, Le Souvenir Yearbook
Maggie Tregre is an English education major from Baton Rouge, LA. She worked as a staff reporter and editor-in-training for The Lion's Roar from September...