Morrison reflects on growth in basketball career
At the start of her senior season, Tyler Morrison, a senior guard, looked back on her years as a basketball player and noticed how much she has improved.
Morrison started playing basketball since she was three years old.
"Everybody in my family played, so when I was able to pick up a ball, I did," said Morrison.
As a result of playing basketball, Morrison believes that she has grown in different ways.
"I'm very shy," explained Morrison. "So, with basketball, I can get out of my shell a lot, and I'm more vocal. My freshman year was tough, and we did a lot. It was a huge transition coming from a Catholic school, where everything was kind of close-knit, and then when we got here, we had a lot going on. So, I think I've just grown. I've matured a lot, to say the least."
Morrison explained that her time on the team has been special to her because of the influence she has made.
"It's meant a lot to me," said Morrison. "Seeing that I've left a mark on girls that have left, like I'm still close with people that aren't here. Just continuing to have a presence on the team now."
Some of the challenges that Morrison has faced on the team involved being a team leader.
"Last year, for a couple games, coach took me out of the starting point guard position, just to get a spark going," stated Morrison. "I was playing a little lax most of the games. So, that was a huge challenge, but it humbled me. It made me see that I have to do more, because they're asking more of you, so I have to give them that."
Celica Sterling, a senior guard, has been playing basketball with Morrison for nine years. She described what Morrison is like as a teammate.
"She picks up my slack," explained Sterling. "Where I'm lacking, she picks it up. She's a great teammate."
Morrison recalled one of the highlights from her time on the team and why it was so significant to her.
"Beating Southern Methodist University last year, that was huge," said Morrison. "We were the underdog. They expected us to get blown out. That was one of the biggest things."
This season, Morrison is looking forward to working hard with her teammates in an effort to make it to the Southland Conference Tournament.
"We have everything we need this season," said Morrison. "This is our year. We should make it to the Southland Conference Tournament and do really well in it. I think we should get far. I'm hoping to get a ring this year."
Morrison stated that she does not plan to continue playing basketball after college because of the physical repercussions of the game.
"I used to think I wanted to, but my body is breaking down," explained Morrison.  "Every day I find myself with a different nick or something else that's hurting. So, I don't think I'm going to continue."
After graduation, Morrison hopes to become a forensic accountant for the FBI. The team will start off the upcoming season with an exhibition match against Southern University at New Orleans on Nov. 4 at 7 p.m. in the University Center.
Leave a Comment
Donate to The Lion's Roar
Your donation will support the student journalists of The Lion's Roar at Southeastern Louisiana University. Your contribution will allow us to cover our annual website hosting costs. No contribution is too small.
About the Contributor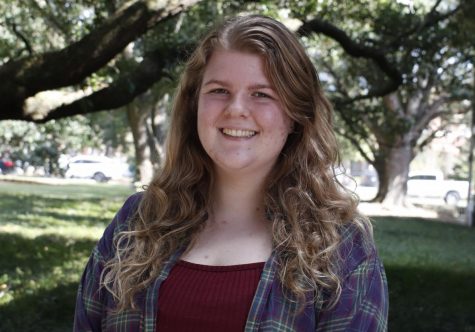 Maggie Tregre, Co-Editor, Le Souvenir Yearbook
Maggie Tregre is an English education major from Baton Rouge, LA. She worked as a staff reporter and editor-in-training for The Lion's Roar from September...