SGA serves campus through three branches
The university has a student body whose sole purpose is to maintain relations between the university and its students.
The Student Government Association achieves this goal through events, programs and services that get students actively involved on campus.
SGA is divided into three branches: the executive, judicial and legislative branches of university affairs. Each branch is in charge of their own separate duties on campus.
SGA's president, Karley Bordelon, discussed what SGA is and how it serves the university.
"The Student Government Association is here to serve the students of Southeastern Louisiana University through communication between students, administration and the community," stated Bordelon. "SGA hosts educational and social events, and offers numerous services that contribute to the advancement of the university and its students."
A popular event hosted by SGA includes "The BIG Event," a day where organizations on campus can get involved in community service around Hammond. Some services that organizations participated in are painting houses, yard work, organizing items and other volunteer tasks. Organizations can register their teams online for this year's event.
The Executive Branch consists of the president, chief of staff, director of governmental affairs, traditions and other positions. The president is not only the head of the executive branch but also the head of SGA as a whole.
Bordelon discussed her role as president and what the position entails.
"As president, I serve as the Chief Executive Officer of the Student Government Association," explained Bordelon. "As stated on our SGA web page, the president initiates, develops and sustains many policies, projects and programs geared toward enhancing the quality of student experience on campus. The president also serves as a representative for the student body on several university committees."
The executive branch has its own set of responsibilities.
"The executive branch is comprised of the executive cabinet which focuses on broad issues and initiatives such as SGA finances, marketing, media, event planning and engaging with students, alumni and the community," said Bordelon.
Alexia Fisher, a senior criminal justice major, discussed what the judicial branch is and how she is involved in it.
"I am in the judicial branch of SGA, and I am a part of the Student Supreme Court as a Justice," stated Fisher. "The Student Supreme Court handles parking appeals, the interpretation of governing documents, impeachment trials and Free Speech Alley. We, as justices, serve SLU students by being the middleman to administrators."
The legislative branch consists of senators whose purpose is to work with the student body on any student activity around campus. It is led by the vice president, L'Oreal Williams.
Each senator has their own roles in making sure concerns from the student body get voiced or passed on campus.
SGA has some events prepared for students to attend this semester.
"Students can look forward this semester to Free Speech Alley," informed Fisher. "We just had one but are planning another, and it's a great way to get the conversation started, but also for the SGA to hear concerns. Some new changes may be up for incoming freshman, as a way to learn the parking policies to help keep them from getting ticketed, some extra parking on campus, and we do have Lion2Lion mentorship program for freshman and transfer students who are interested in SGA, which pairs them up with a SGA member to get insight in the organization and participate as well as get insight on other programs."
For more information on SGA and how to get involved on campus, visit their website or their office located in room 2307 of the War Memorial Student Union.
Leave a Comment
Donate to The Lion's Roar
Your donation will support the student journalists of The Lion's Roar at Southeastern Louisiana University. Your contribution will allow us to cover our annual website hosting costs. No contribution is too small.
About the Contributor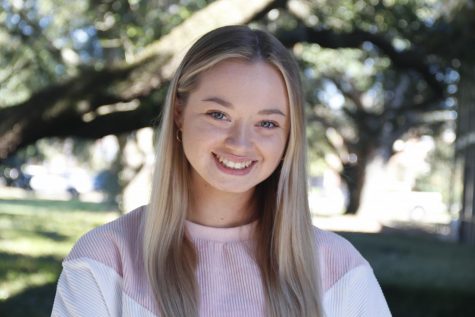 Gabrielle Wood, Staff Reporter
Gabby Wood is a communication major with a focus in public relations. Outside the office, you can find her trying new coffee shops and endlessly scrolling...