A musical melting pot: Louisiana's original art form
Jazz music has been a part of Louisiana's culture for over a century.
Although the first jazz groups originated in New Orleans, there were many different musical influences from other regions of the world that helped create jazz as it is today.
Michael Brothers, director of jazz and percussion studies, described some of the influences that contributed to the original form of jazz. Several of these influences came from other countries.
"You had the music from the Caribbean and trumpet players from Mexico," said Brothers. "You had the military bands that were stationed in Louisiana at various stages in this country's development and an influence of the chants from the slaves that were brought to this country. That is tied to, in a very broad sense, the influence of the blues from the delta of the Mississippi."
Brothers explained how these different elements contributed to the development of jazz over time.
"With New Orleans being such a melting pot, there were several influences that came together that formed what became jazz," explained Brothers. "At that time, New Orleans was a much more open city. It was not as restrictive as the rest of the south. Because of that, and because of what people around here refer to as the 'laissez-faire' attitude, that allowed all those influences to come together."
Jazz music has undergone several changes over time. Dr. John Madere, lecturer of double bass, believes that one of the biggest turning points in jazz history was during the "Bebop Era."
"Musicians were tired of simply being background music so their audience could dance," stated Madere. "Bebop musicians like Charlie Parker and Dizzy Gillespie increased the tempo to make it uncomfortable for audience members to dance and started turning jazz into its own form of art. They made advancements by adding notes to chords that would have seemed like 'wrong notes' to others. They played with increased tempos, which assured that only the finest would be able to play bebop."
One of the significant figures in jazz history is New Orleans native Louis Armstrong.
"He's obviously the most well-known figure around the world," said Brothers. "The equivalent of Louis Armstrong would be Elvis in the rock world."
Madere shared the belief that Armstrong played a major role in the history of jazz music.
"Louis Armstrong would have to be at the top of my list of Louisiana jazz musicians," expressed Madere. "He was a bridge from the early beginnings of jazz and into the big band and bebop eras. His phrasings and the way he played his instrument have directly influenced anyone who has ever picked up and instrument and tried to play jazz."
Because of its connection to New Orleans, jazz music has contributed to Louisiana culture ever since it was created.
"We have jazz at weddings, at parades, we have local jazz musicians playing during the commercials of Saints games, and even in the Superdome," explained Madere. "We even have jazz played at funerals. There may still be mourning and crying, but there will also be singing and dancing and people waving around their handkerchiefs in honor of the one who was lost."
Brothers believes that the impact of jazz expands beyond the borders of Louisiana.
"It's not just Louisiana, it's the world," stated Brothers. "Jazz is America's only native art form. Our gift to the world is jazz, and it just so happened that it was created here in Louisiana. It's a worldwide art form, and it's an art that has impacted the world."
Despite jazz not being as popular as it was when it first began, it continues to be influential in Louisiana and around the world.
"You had the swing era of the late 1930s and 1940s, where at that time, jazz was America's popular music," explained Brothers. "In a certain way, it went from being the popular music to an 'art music.' It doesn't have the grand exposure it had in the 30s and 40s, but it's still incredibly vibrant. Every major city has at least one jazz club, so the music is still alive. It's very active in schools, and in Europe and Japan, it's still wildly popular. The music is by no means dead."
Leave a Comment
Donate to The Lion's Roar
Your donation will support the student journalists of The Lion's Roar at Southeastern Louisiana University. Your contribution will allow us to cover our annual website hosting costs. No contribution is too small.
About the Contributor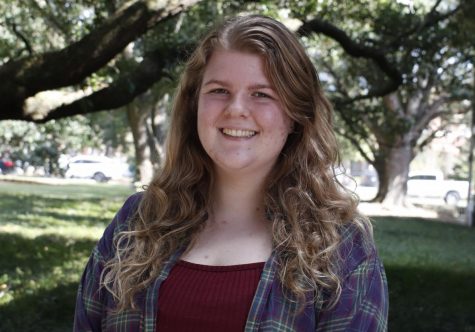 Maggie Tregre, Co-Editor, Le Souvenir Yearbook
Maggie Tregre is an English education major from Baton Rouge, LA. She worked as a staff reporter and editor-in-training for The Lion's Roar from September...