Senior art majors prepare to exhibit how they have matured their craft
The end of the semester is approaching, which means seniors are near the end of their undergraduate studies.
For art majors, this means preparing their final body of work for the upcoming senior thesis exhibition.
Nov. 21-Dec. 14, the university's Department of Visual Art and Design will host the Fall 2019 Senior Exhibition in the Contemporary Art Gallery. Students in eight of the department's 11 concentrations will have artwork displayed in the exhibition.
Dale Newkirk, department head and gallery director, elaborated on the process that is required of senior art students and how it affects their final semester at the university.
"The process is that they create the work in their 400-level senior project class and then they have to present that work to a panel of faculty in front of peers and are asked questions for about a half-hour," explained Newkirk. "Then the faculty scores them on their work and their general knowledge of artwork and art history. If they pass that, then they get to mount their senior show."
Newkirk explained that the exhibition is the culmination of the seniors' undergraduate art careers and that to many of the students, it holds more significance than graduation.
"They get a section of the gallery with their name put up and it's a really big deal," stated Newkirk. "The parents come and friends. So for these students, when that show opens, it's really, to them, more important than graduation and walking in the ceremony because it's like a celebration of their work and getting to show their work in a professional context."
Ariana Ford, a senior art major with a concentration in graphic design, described the meaning behind her exhibition piece. She explained the time, effort and improvement that she invested in her artwork for the exhibition.
"Really what it is I made this airline for students like me who can't really afford to travel often, so that's like a struggle that I go through and then the next step was designing everything," explained Ford. "I knew I wanted it to be really colorful and bright. I definitely use a lot of colors in my work. Then just going through critiques with class and stuff and listening to what I can improve upon and how things can be better. It's basically a year's worth of work or two semesters' worth of working on this."
Caitlyn Clark, a senior art major, explained how she has grown and improved as an artist throughout her time at the university and commented on what her senior project means to her.
"I didn't realize I was a sculptor," noted Clark. "I started out doing drawing and then I thought I was going to be into animation and stuff. Then I took 3D Design and was like 'I actually really like this,' and now I'm doing sculpture, and I do drawings and paintings as well. And of course, my technical skills have improved. I learned a lot since sculpture was very new to me. Conceptually, as well, my ideas have grown and have been expanded upon, and I guess my senior project is sort of the culmination of all those things now."
Ford shared why she feels this exhibition is important, not just to art students, but campus-wide.
"I think it kind of gets ignored, I guess is the nice way to put it," explained Ford. "I think it's good to see how other people think and how other people create art. I just think it's nice to share your art. I think it's important to know there's different kinds of arts and to see what you can do with art and not just a pen and paper."
The opening reception for the Fall 2019 Senior Exhibition will be Nov. 21 at 5 p.m. in the Contemporary Art Gallery at 100 East Stadium.
Leave a Comment
Donate to The Lion's Roar
Your donation will support the student journalists of The Lion's Roar at Southeastern Louisiana University. Your contribution will allow us to cover our annual website hosting costs. No contribution is too small.
About the Contributor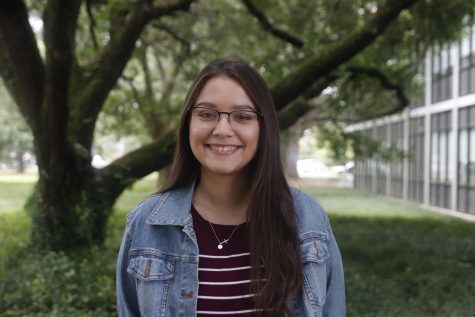 Brynn Lundy, Co-Editor in Chief
Brynn Lundy began working for The Lion's Roar in the fall of 2019, her first semester at Southeastern, and now serves as Co-Editor. She is a communication...