McPherson selected as Teacher of the Year
University alumna Sydney McPherson was selected by her peers as the 2019-2020 Teacher of the Year at Southdowns School in Baton Rouge.
McPherson graduated from the university in 2015 with a bachelor's degree in early childhood education. She plans to begin pursuing her master's degree in special education in the spring.
Coming from a big family, McPherson has always enjoyed working with children. She explained what drew her to a career in teaching.
"My entire life I have absolutely loved kids," explained McPherson. "My family is big, and there were always kids around. I chose early childhood education in particular because I love the age. Everything is silly, fun, there's still magic and innocence for them, and it really feels like you're playing games all day long with them. Plus, there's an added bonus that they think you're the coolest person in the world because you can read them stories in cool voices, tie shoes on the first try and you know Santa Claus' phone number."
McPherson recalled an interaction with her father at a young age that also inspired her love of teaching.
"I was studying for a science test with my dad," shared McPherson. "I was learning about parts of a plant and photosynthesis, and no matter how we studied, I wasn't getting it. My dad put down my notes, looked at me and said, 'Let's go outside.' So I followed him outside and he literally pulled up a plant out of the ground and started showing me the different parts and letting me touch them."
Upon learning that she was selected for Teacher of the Year, McPherson felt grateful for the support of her fellow teachers.
"It is very humbling to know that people that I work with, am friends with and that I look up to chose me to be Teacher of the Year," said McPherson. "They all motivate me and give me advice daily, so I definitely would not be the teacher that I am without their friendship and support."
McPherson feels that the university helped to fully prepare for her career.
"I learned so much at Southeastern by going through their education program," said McPherson. "They make sure that you have hands-on experience, learn from so many amazing professors who support you, and they make sure that you are in so many different schools throughout your program that you get the opportunity to work with so many different kinds of students."
Even during times when she doubted her career decision, McPherson felt that she could rely on the faculty to provide the support she needed to pull through.
"There are going to be times when you are teaching that you feel like you are not good at it or that maybe it isn't for you," explained McPherson. "Everyone goes through that. They understand the stress and the struggles you face as a teacher, and they are always there to support you no matter what. Even after college, I still talk to some of my professors and still receive support from them."
McPherson believes that her success in the classroom is due to the positive experience she had as a student at the university.
"Southeastern 100%  helped to prepare me for my career without a doubt," said McPherson. "If I hadn't had that hands-on experience and encouragement that I got from Southeastern, there is no way that I would have been prepared to step into a classroom by myself."
View Comments (1)
Donate to The Lion's Roar
Your donation will support The Lion's Roar student journalists at Southeastern Louisiana University.
In addition, your contribution will allow us to cover our annual website hosting costs.
No gift is too small.
About the Contributor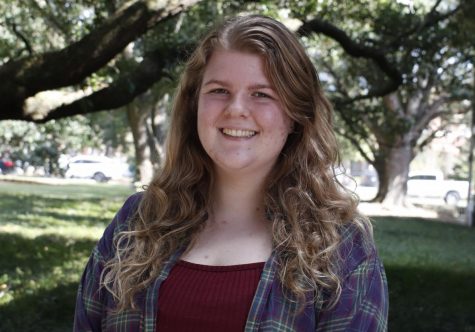 Maggie Tregre, Co-Editor, Le Souvenir Yearbook
Maggie Tregre is an English education major from Baton Rouge, LA. She worked as a staff reporter and editor-in-training for The Lion's Roar from September...