Mariah Clayton: Miss Louisiana USA 2020's rise to the crown
Mariah Clayton was crowned Miss Louisiana USA 2020 on Oct. 9 at the Lafon Performing Arts Center in Luling.
Clayton explained how she got into pageantry and rose to the crown.
"When I was 18, my sister wanted me to do a pageant with her," said Clayton. "She was the pageant girl. I was definitely the athlete. She wanted me to do this pageant with her because she wanted us to be 'sister queens.' I ended up getting second runner up."
Clayton expressed how she got inspired to go for the crown again and how her sister, Shelby Clayton, influenced her with the decision to compete in pageants.
"The next year, when my sister went to go give up her crown, I was sitting in the audience," said Clayton. "I was just watching the pageant and something just came over me. I was like, 'I think I want to do this again' and so, I competed in a pageant that next week and I won."
Clayton comes from a world of sports, where her parents were both athletes, and she played volleyball. She explained how different the world of pageantry was from sports.
"That was like a whole new world for me," said Clayton. "I was a volleyball player my entire life and the difference in makeup, hair and fashion was never my thing."
Clayton expressed how she felt that this year gave her a real purpose for competing in pageants, such as Miss Louisiana USA 2020, because in pageantry there is a lack of representation.
"The first two times I competed, I had no idea why I was competing," said Clayton. "I just knew my sister was making me do this. It wasn't until this year that I felt like I had a reason, to inspire young girls to show them that they can do anything they want to do. There has only been two other black Miss Louisiana's before me. I'm the first one to only win with natural hair."
Clayton encouraged young girls to be proud of themselves and to be confident. She believes that the system is slowly turning towards more representation.
"I want little girls to see us on that stage and be like 'I can do that' and 'I can see myself doing that,'" expressed Clayton. "I think we are slowly getting there and I think that is a big reason why I wanted to compete this year, because I just want them to know that they can do this too. You don't have to be this or that. Pageants are steering away from the mold that they used to have."
Clayton described her time during the pageantry and how it is not what people expect it to be like. She also explained that it is not always about winning and the opportunities that are provided with being in the pageantry.
"It's like a family," expressed Clayton. "I know all of those girls. We mingle and we communicate with each other. You make so many friends and you network. It's not always about winning and I had to learn that the hard way one time. The second time I competed I felt like 'I have to win, I know I can do this,' and I wasn't trying to take in all the other experiences and so this time I want to get back into that grateful space and just be happy to be there. You never know what doors can open for you."
Clayton described the moment she was crowned Miss Louisiana USA 2020.
"That moment was indescribable," said Clayton. "I just remember time standing still for a split second. It was a moment I will never forget. I felt so grateful, so blessed and honored that the judges trust me enough with this title. It was just a beautiful moment."
Clayton visions of hosting a volleyball camp one day.
"I want to host this huge volleyball camp at LSU," said Clayton. "I'm going to get all these amazing college and club coaches from around the state and put on this huge volleyball camp and donate the money to different organizations throughout the state." 
Clayton explained her upcoming plans as Miss Louisiana 2020 title holder.
"I plan to do a lot of community service and be a leader in my community," said Clayton. "I want to go talk at some high schools about self confidence and self love to young girls. I'm trying to get into acting and modeling. I want to squeeze every ounce out of this sash that I can."
Leave a Comment
Donate to The Lion's Roar
Your donation will support The Lion's Roar student journalists at Southeastern Louisiana University.
In addition, your contribution will allow us to cover our annual website hosting costs.
No gift is too small.
About the Contributor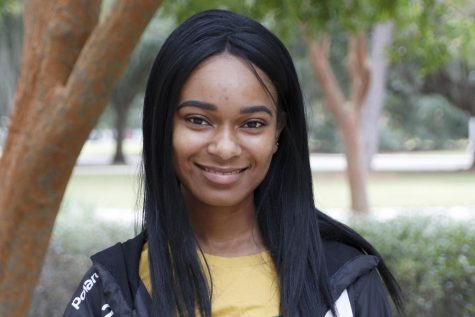 Briyana Anderson, Staff Reporter
Briyana Anderson is a communication major from Maringouin and began working at The Lion's Roar in the fall of 2019. She is a part of Pi Delta Epsilon and...