Art majors shine light on theatre design concentration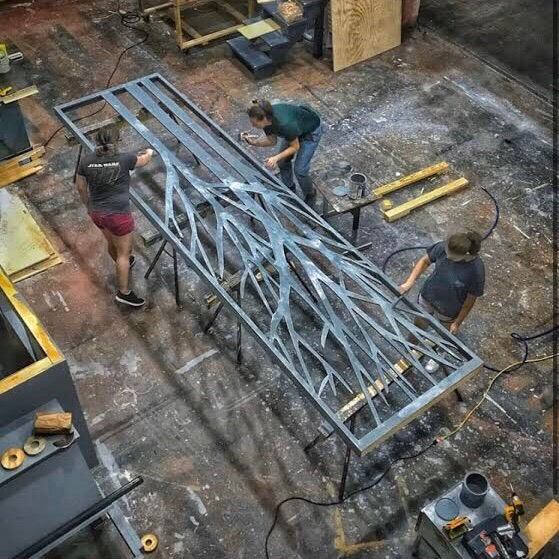 The university offers a theatre design concentration for those interested in play production.
Theatre design teaches skills that range from set and costume design to lighting and sound design. Undergraduate students are also able to work for the university's productions and gain hands-on experience.
Donna Beagle, a junior art major, believes the courses she takes give her better artistic insight.
"The main thing with that is my curriculum is not only 'Here's a show, design a set,'" described Beagle. "I've taken drawing classes. I've taken painting classes, and I'm learning all of the aspects of art and design, alongside the practical like 'Here's a screw gun, go screw two pieces of wood together.' So, it's almost as if you are like a painter, you are creating your own painting that's 3D and physical."
Emery Foster, a junior art major, learned the importance of her curriculum after taking her first art class.
"As someone who was designing before I had ever taken an art class, I was just like, 'Yeah, there's this house, and it's just a house,'" said Foster. "And Steve Schepker said, 'Yeah, but angles are a lot more visually interesting,' and I didn't even know that. The theatre design world helps me to be able to have a lot more critical eye. I was not able to do that before."
Sculpting had interested Beagle since she was young. Eventually, she discovered theatre design was a way to continue her passion.
"Theatre isn't originally what I started with," shared Beagle. "It was designing what I like to call 'moving art pieces.' I created wings that were poseable on my body that I could move freely. I created legs that would make me appear to have goat legs. Theatre design was the closest I could find to my passion of creating moving sculpture."
Foster was first involved in theatre as an actress and explained how her transition from onstage to backstage drew her to theatre design.
"It was when I started working backstage," explained Foster. "I thought it was interesting, and I liked acting because I like portraying the story. As an actor, I was only able to be one part in that story. But as a designer, I've found that I'm much more able to portray the story in a bigger sense, as a whole."
After switching to theatre design, Foster was exposed to the facets of show production that people don't commonly recognize.
"There's so much that goes into it," mentioned Foster. "When people go see a show, they usually talk about the actors because that's like the face. Design is the rest of the body, and you don't think about the set when you look at the stage, and that's kind of the point. You sit down and watch a show, and the set is telling a story non-verbally while the actors are acting out, and it helps them create this suspended disbelief."
Beagle elaborated on the process of creating one of her props from a previous play, 'Strawberries, Guns, and Milk.'
"I'll use my giant strawberry as an example," said Beagle. "I had asked him how big he wanted it, and he said as big as possible. So, I did four foot by one foot in diameter, and then I went on Pinterest and I looked up pictures of strawberries and kind of found the design that I wanted for it and presented it to the director and asked him 'Which one do you like better?' and he would give me feedback if he liked it.  Most things go through the director. Sometimes you have to make choices."
Foster discussed what she enjoys most about theatre design.
"I specifically enjoy doing sets," said Foster. "I get most of my scenic design experience by working with Steve in the shop, but I also find that sculpture with Jeff Mickey helps as well, doing 3D and learning how to use materials and stuff, but I have to take the same classes other students take along with a couple of extra theatre classes. I love telling the story."
Leave a Comment
Donate to The Lion's Roar
Your donation will support The Lion's Roar student journalists at Southeastern Louisiana University.
In addition, your contribution will allow us to cover our annual website hosting costs.
No gift is too small.
About the Contributor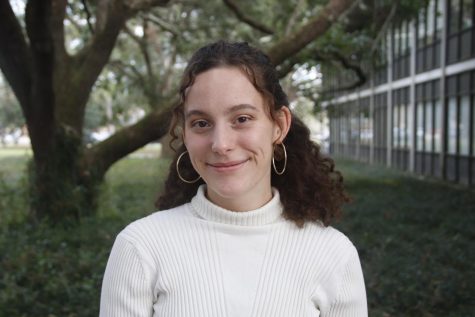 Elana Guillory, Yearbook Editor
Elana Guillory is an art major and lives in Ponchatoula. She worked as a reporter for The Lion's Roar from the fall of 2019 until April 2021, and now she...