Fraternity hosts march of remembrance for Martin Luther King Jr.
To highlight the legacy of a leader in the civil rights movement, fraternity brothers gathered to lead an annual memorial march.
The Kappa Nu chapter of Alpha Phi Alpha Fraternity, Inc. collaborated with Multicultural and International Student Affairs to host a march in commemoration of Martin Luther King Jr.
The march began at 6 p.m. on Jan. 27 in front of the Pennington Student Activity Center and consisted of a candlelight processional. "Together we stand, divided we fall," was chanted as a group of students, faculty and visitors marched across campus. 
Destiny Richardson, a sophomore graphic design major, shared what participating in the memorial program means to her. 
"Participating in this march is a way to remember the life of Martin Luther King Jr.," said Richardson. "Growing up, I always heard stories of my grandmother and my great-grandmother doing things like this. This is a modern way of doing it."
The group completed its march as they approached the Student Union Theatre, where the Southeastern Choir performed 'I Shall Wear a Crown' in dedication to the civil rights activist.
The fraternity also welcomed guest speaker Tyronne Walker, vice president of communications and public affairs for the Greater New Orleans Foundation, to give his remarks on Martin Luther King Jr. and his legacy.
"It's great to share this with you as we honor the life and legacy of our fellow Alpha brother Dr. Martin Luther King Jr.," expressed Walker. "These are special moments because they give us the opportunity to pause and zero in on King's uniqueness, his brilliance, and to learn from him and the world-changing movement that he led."
Walker proceeded to emphasize the power of choosing conviction over conformity and concluded the memorial event with words of wisdom for the audience.
"Brother King once said 'Our lives begin to end the day we become silent about things that matter,'" shared Walker. "I want to challenge you today to push us to be better and stronger, by living out the courage of your convictions."
About the Contributor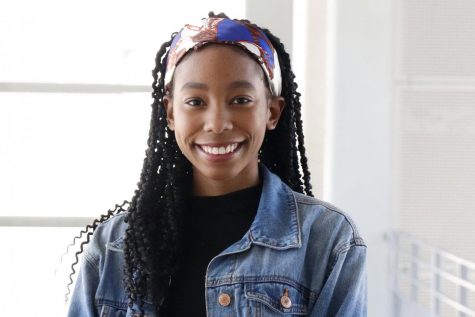 Symiah Dorsey, Photo Editor
Symiah Dorsey is a communication major from Laplace and serves as Photo Editor. She grew up in Ramstein, Germany and is passionate about traveling and...