Education in isolation: School teachers are still spreading knowledge during global pandemic
On March 13, parents, teachers and students were notified of a state-wide closure of all Louisiana public schools until April 13. Since then, teachers have moved to online classroom settings and are teaching students remotely from their homes.
University alumna and Southdowns Teacher of the Year Sydney McPherson teaches at Southdowns Pre-K and Kindergarten Center in East Baton Rouge Parish. She shared how she received news of the shutdown.
"We had some idea that we were headed that direction during the week, so some of us got a jump start on preparing resources to send home," shared McPherson. "At some point over the weekend, we received notice that we should provide online resources to our students for them to use over the break. Luckily, in my classroom, I have interactive work binders adapted to my student's IEP goals along with essential Pre-K skills that I put in their backpacks before they left since I knew we were closing."
Not every teacher received early notice to prepare for the change. For Jacob Delaune, a university alum teaching at Dutchtown High School in Ascension Parish, the news came more unexpectedly.
"We were asked by the administration to survey our 3rd-hour classes to find out exactly which students would have difficulty accessing the internet from home," shared Delaune. "That was around 9 in the morning, and by 7th-hour JBE had officially announced school closures starting that Monday and running through April 13."
McPherson noted that many students may feel cheated out of their senior year, but she believes educators will be doing all they can to celebrate students' achievements.
"I totally understand their feelings of feeling cheated of their senior year – upset, angry, sad, disappointed and whatever else they are feeling," said McPherson. "They are allowed to feel that way because a big season of their life just got taken from them. I can promise you that most, if not all, high school teachers/faculty are brainstorming ways to make this up to them in the most special way that they can. Teachers will go above and beyond for their students 100% of the time, especially in situations out of their control."
Some teachers have found opportunities to tie the pandemic into their course material. Delaune shared what he was able to teach his class with relationship to COVID-19.
"I teach AP environmental science," shared Delaune. "We have been tracking and discussing this since January. Our current situation is heartbreaking, frustrating, but unfortunately not surprising. If anything, we may, as a society, gain a deeper appreciation for expertise and the time it takes to develop a body of expert doctors, nurses, scientists, teachers, etc."
Delaune explained what the situation could say about society.
"We have extremely complicated systems today that do provide a greater quality of life for a huge number of human beings," said Delaune. "However, these systems leave much to be desired and have secondary and tertiary consequences (environmental degradation, class division, economic instability, gap between poor and rich, access to healthcare, etc, etc…) – hopefully, COVID-19 makes more of us question if our current society is 'as good as it can be,' or if we've been limiting ourselves and our imaginations."
McPherson recalled her time at the university and shared how it prepared her for teaching. She also noted that what she learned is essential for educators now.
"One thing I remember hearing in all of my classes was to be flexible," commented McPherson. "Teachers need to be flexible because you can plan a lesson perfectly and have it perfect on paper, but when you are teaching (especially with the little ones) they are going to raise their hand and tell you about the gross bug they saw on the playground when you are in the middle of a math lesson, and that is okay. Southeastern taught me how to be flexible in my teaching and to do my best no matter what, and I really believe that applies in this situation."
Delaune remembered the environment that the university offered and how the use of online resources prepared him a little more for the current situation.
"I loved the smaller classes once I started getting into my higher levels. Being able to discuss topics and issues with the professor and class on a regular basis helped me develop academically and socially, and I've had so many great professors at Southeastern," said Delaune. "Using online platforms for assignments, discussion, research, etc. was pretty common, so I'm glad I was able to continue building online proficiency during this time."
With classes moving online, teachers recognize the stress students can feel. Delaune shared a message he sent out to his students when schools first closed.
"Don't forget, y'all, 'knowledge is power,'" shared Delaune. "COVID-19 is a real threat, but humans are good at tackling complex problems and being resilient when we work together. Don't panic, trust experts, do your part and stay informed."
View Comments(1)
Donate to The Lion's Roar
Your donation will support The Lion's Roar student journalists at Southeastern Louisiana University.
In addition, your contribution will allow us to cover our annual website hosting costs.
No gift is too small.
About the Contributor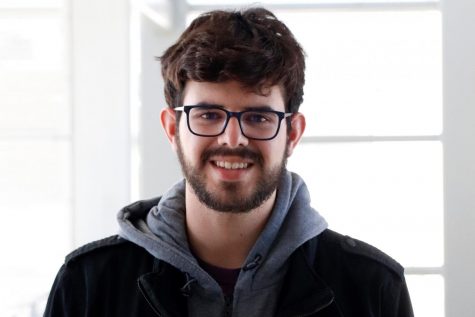 Jacob Lofton, Staff Reporter
Jacob Lofton is a music education major from Prairieville. He has been a staff reporter with The Lion's Roar since the Fall of 2019 and spends his spare...