University to report confirmed cases of COVID-19
The Louisiana Department of Health will begin collecting data from public colleges and universities across the state regarding positive cases of COVID-19.
The university sent out a Faculty/Staff notice on Sept. 4 that included the number of cases that have been reported so far. 
According to the notice, "As of the beginning of this week the university has had 35 positive student cases to date, where five are currently isolating off campus and the others are no longer required to isolate. In addition, there have been 38 faculty/staff cases to date, where 29 have returned to work."
The notice mentioned that the reason the university waited to release this information was due to uncertainty surrounding what qualifies as a confirmed case on campus. 
"To this point, however, the university has not been publishing the number of cases because there have been no common standards or definitions as to what constitutes a 'case,' which could result in confusion, misunderstanding or misinterpretation," stated the notice. "As an example, it has been unclear whether an employee or student who is working or studying entirely remotely who shares with the University that they have tested positive for COVID-19 and are in isolation at home should be considered a 'university' case."
The numbers reported to the LDH will be uploaded to a website that will be created within the upcoming weeks. The website will contain the weekly reports of COVID-19 cases from other universities as well. 
Dr. Jim Henderson, president and CEO of the University of Louisiana System, released a statement regarding case reporting on August 18.
"Our nine member institutions, distinct geographically and in student mix, will follow robust contact tracing and notification protocols," said Henderson. "In addition, each is working in collaboration with local public health entities to release all information that advances public health decision making at both the policy level and by individuals. Providing an accurate, informative data picture while protecting individual privacy is achievable, and doing so will enhance our collective efforts to mitigate COVID-19 impacts."
Sam Englehart, a freshman criminal justice major, shared that he tested positive after an outbreak of the virus at Tigerland in Baton Rouge. He decided to get tested even though he was not showing any symptoms.
"I tested positive mid-June and tested negative a week later," said Englehart. "I never had symptoms, but I read an article about a COVID outbreak at JL's Place in Tigerland after the night I was there, so I decided to go get tested."
Taylor Gautreaux, a junior middle school education major, found out that she had the coronavirus in July after coming back from a family beach trip. The symptoms she was experiencing felt like mild allergies.
"When my mom tested positive on the rapid test, I went later that day and tested positive," shared Gautreaux. "I was living in a missionary community at the time and we all quarantined together. However, no one else showed symptoms. Five days after my positive test, the entire community tested negative, including me."
Editor's note: Edited for additional quote 9/9/2020
Leave a Comment
Donate to The Lion's Roar
Your donation will support the student journalists of The Lion's Roar at Southeastern Louisiana University. Your contribution will allow us to cover our annual website hosting costs. No contribution is too small.
About the Writer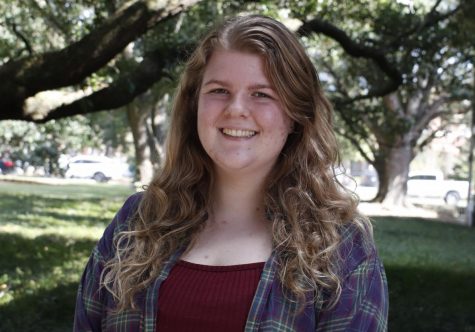 Maggie Tregre, Co-Editor, Le Souvenir Yearbook
Maggie Tregre is an English education major from Baton Rouge, LA. She worked as a staff reporter and editor-in-training for The Lion's Roar from September...