Batter up! Local resident shares her treats with the city
Resident Abigail Caswell decided to share her sweet treats with the city and opened Batter Bakery in downtown Hammond in November last year. 
"We love downtown Hammond and the small businesses here already, so I couldn't imagine going somewhere else and opening up when I knew how strong the local support already was for small businesses that were already present in downtown Hammond," Caswell said. 
Caswell began baking out of her house in Alexandria in 2016 for friends and family before moving to Hammond two years later. With a little convincing, she moved her business to the weekly farmers market downtown. The excitement and love of her treats grew as she opened her storefront later that year. 
"We've been extremely busy. We've been very blessed to be so successful because we started at the farmers market and were busy there. But I thought when we got into the storefront that things would taper off and maybe the excitement would die down. Instead, I feel like we get busier every single week," Caswell added.
Along her journey to opening the storefront, she began creating videos for social media. Each day she shared her experience with TikTok until one day, a video went viral. The virtual trend began at the start of her series, "A Day in the Life of a 27-year-old girl who just opened a bakery."
In just a few short months, Caswell expanded her outreach on TikTok to over 100k followers. In addition, the use of social media significantly increased her ability to reach customers.
Caswell has become a huge advocate for social media marketing because of her bakery's success. More and more customers who have learned about her shop through a family member or social media will travel to her shop each week. She said, on average, 40 of her customers on Saturdays have traveled for her sweets. 
Starting at 16 working for a small sweet shop, Caswell fell in love with baking and knew one day she would run her shop, unaware that only ten years later, she would leave her full-time job and put her "bet on Batter."
Caswell was set on having a single-word name when she began her search. With her husband coaching baseball and even being a previous assistant coach for baseball at SLU from 2018 to 2020, one idea stuck out: "Batter Up." When Caswell's mother-in-law suggested it, she instantly knew Batter Bakery was the right name for her business. 
Along with building her company, Caswell has built a close and reliable staff, sometimes receiving help from her husband and mother. 
Current Batter employee Mason Burnette said, "It's lots of fun. She's like a big sister and a best friend. I don't feel like I'm working when I come to work. I feel like I'm just coming to a sleepover and making cookies with my friends. That's what it is all day."
Caswell's current expansion plans are to continue running the storefront to meet the demand of her customers. 
"I just can't imagine expanding until this one's like on lock, and we're able to do everything we need to do to make our customers here happy because our main goal is not rapidly expanding. So I want to make sure that people of Hammond are happy first, and then we'll think about doing that down the road," Caswell added.
Leave a Comment
Donate to The Lion's Roar
Your donation will support The Lion's Roar student journalists at Southeastern Louisiana University.
In addition, your contribution will allow us to cover our annual website hosting costs.
No gift is too small.
About the Contributor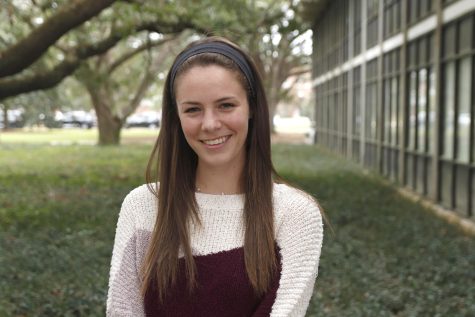 Haley Dupre', Photography Editor
Haley Dupre' is a communication major from Donaldsonville, La. She joined our team in October 2021 as a reporter. Outside of the office and school, Haley...