Student news reporter makes the university proud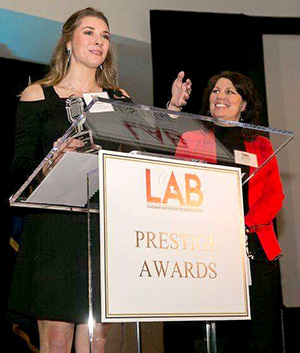 Student reporter at the Southeastern Channel and junior communication major Amanda Kitch was awarded the 2018 Louisiana Association of Broadcasters Student Scholarship for an outstanding performance in news broadcasting and reporting.
According to their website, LAB is a statewide organization dedicated to promoting "the success and prosperity of Louisiana's Broadcasters and advancement of the broadcasting industry." The organization awarded Kitch with a scholarship of $4,000.
Kitch applied with necessary documents for the scholarship after General Manager of the Southeastern Channel Rick Settoon passed on the information. Kitch was flattered to attend the LAB luncheon and to accept the award.
"This was quite the experience as I accepted my award and gave my acceptance speech in front of the greatest reporters and producers in the entire state," said Kitch. "Winning this award created a whole new meaning of Southeastern's motto 'Success Matters.' My success not only matters to me, but it now matters to my community and to everyone around me."
Along with feeling honored, Kitch aims to continue doing well. She feels more motivated than ever to be more visible in the world of broadcast. 
"If they are willing to invest several thousands of dollars in my skills and education, then I know they see greatness in me," said Kitch. "That's incredibly flattering. In my acceptance speech, I promised the audience that they will be seeing more of me, and I am not kidding."
Kitch has already bagged several awards in the past. An honorable mention for the National Academy of Television Arts and Sciences Suncoast Chapter Scholarship Award 2018, an Emmy Honorable Mention for Public Service Announcement and a Louisiana and Mississippi Associate Press Broadcasters 2018 Award are only a few of the awards she lists in her resume. Kitch believes the Southeastern Channel has resources, mentors, tools and knowledge that help her network with people in her field. 
"I also get to network with people in my field who actually remember my name and my work, like channel producers," said Kitch. "The channel allows me to make what I want out of my position as a student reporter. I have the experience of going out in the real world to cover real stories with real people to learn from real mistakes and create real successes."
Settoon is proud of Kitch's achievement. He believes the recognition helps to validate her future as a broadcaster. 
"The LAB Student Scholarship was established to encourage careers for future broadcasters in Louisiana," said Settoon. "In honoring Amanda, it shows that the LAB and all state professionals in the industry recognize not only her talent and quality of work, as she's already won multiple national and regional awards, but also her career focus and vision. With this scholarship, the LAB is making a generous investment in what they believe will be Amanda's future as an outstanding broadcaster."
According to Settoon, student reporters from the university have been awarded the Student Broadcaster of the Year award four times during the past five years.
Along with Kitch, Wesley Boone received the Student Broadcaster of the Year award. Settoon feels it is prestigious for students to be awarded with such honors.
"It's tremendous for both Wesley and Amanda to be honored as the very best in the state by the LAB," said Settoon.  "For Wesley, to be selected as the state's top student broadcaster out of all college television and radio students in Louisiana, is extremely prestigious since the award is given by all television and radio professionals in the state who can truly recognize the very best talent, skill and quality of work possessed and demonstrated by students."
Kitch, who believes she was taught by "the most respected and talented theatrical, broadcasting and video professionals in the state," plans to intern at a news station or video company in the near future.
With her everyday experience, Kitch hopes "to climb the journalistic ladder" and find a way to the top.