Miracle recovery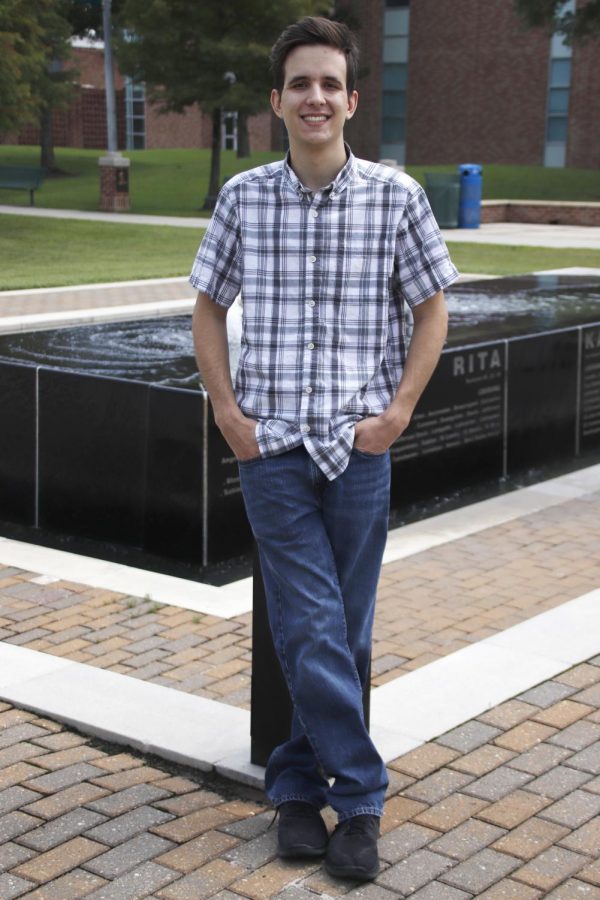 Larshell Green, Editor
August 7, 2018
When little boys are born, they become accustomed to letting go of the gentle hands of their mothers to spring into adulthood. Soon after Michael Fitzgerald entered college, a terrible accident threatened to snatch away his life and independence. The circumstances ultimately strengthened his relationship with his mother Kari Fitzgerald.
On March 30, 2017, there was a bad thunderstorm. The next day, the weather cleared up, and Michael began commuting from Watson to the university for an exam.
Before he could make it, the Livingston Parish Sheriff's Department informed Kari Fitzgerald of her son's circumstances.
"He said he had an accident," said Kari Fitzgerald. "He might have hydroplaned and was taken by the ambulance as a precaution."
The accident occurred on Highway 63 near the Livingston Parish's back roads. In some of the first conversations with those who helped Michael Fitzgerald, Kari Fitzgerald recounted the law enforcement explaining that if a passenger was in the seat with Michael Fitzgerald, they would have died instantly. After absorbing that information, she was left with her husband to cope with the damages Michael had sustained including a fractured skull and damaged brain tissue.
"He had mini strokes and seizures and was in a coma," said Kari Fitzgerald.
During his stay in the hospital, he was in the trauma center and critical care facility at Our Lady of the Lake Regional Medical Center. Although he did not have any broken bones, he was in a neck brace, hooked up to a ventilator and spent five days in a coma.
Kari Fitzgerald explained how the start of Michael Fitzgerald's physical therapy was a bittersweet moment for her.
"We were so happy, but it was a little disheartening because he couldn't do as much as he could before," said Kari Fitzgerald.
Michael Fitzgerald's recovery was not immediate. Shortly after the accident on April 28, 2017, Michael Fitzgerald had to be taken back to the hospital because of the surplus of sensations he experienced. His hearing was also more sensitive than usual with certain pitches.
According to Michael Fitzgerald, the most difficult part of his recovery process was sleeping. He explained that because his sleeping patterns changed after the accident, regaining a normal sleep schedule has been challenging.
Beyond Michael Fitzgerald's physical improvements, Kari Fitzgerald is pleased at the changes in her son's communication and his remaining spirit. Although she has always known him to be quiet, she noticed that he began to speak more after the accident.
"I would do anything for my kids," said Kari Fitzgerald. "He never once complained. He's never said, 'Why me?' and gotten mad that he's a year behind in school. He jokingly says, 'I don't remember the wreck. I think you're making it up, Mom.''
Michael Fitzgerald was not aware of his need for a recovery process right away. He did, however, notice the power he could have in maintaining a positive attitude.
"Stay positive," said Michael Fitzgerald. "Negativity gets you nowhere because it could have been worse. But you survived, so be thankful."
Michael Fitzgerald was not able to return to school during the semester the accident occurred in. He returned in Fall 2017 instead and took one course, which his mother accompanied him to.
Daniel Acosta, who taught Michael Fitzgerald Discrete Math, shared that the course is challenging because it consists of learning the language and notation for the logics and theories that prelude developed math concepts.
"The course requires a high level of mathematical maturity," said Acosta.
Acosta explained that he was somewhat surprised at Michael Fitzgerald's ease in performance. He realized that Michael Fitzgerald would be OK in the course after he turned in the first assignment. Beyond that, he noticed Michael Fitzgerald's persistence in mastering the material with little to no help.
"He was independent," said Acosta. "He never asked for accommodations, turned everything in on time, was present at every class, and didn't ask a bunch of questions in every class. From the first exam, it was clear he would be able to do this despite his physical impairments. It wasn't a given that he would come back and deal with this, and he did. There was one exam where he got the highest score."
During the most recent spring semester, he managed to earn a 4.0 GPA while working at Raising Cane's Chicken Fingers. Although she was there throughout the journey, Kari Fitzgerald remains shocked at the speed of her son's progression.
"This last year has been such a roller coaster," said Kari Fitzgerald. "Every doctor said, 'You should be dead.'"
One of Kari Fitzgerald's goals as the family matriarch is to enforce hugs and well wishes before family members leave each other's presence. She feels thankful for the experience and knows that the road ahead for the family is long but necessary.
"Sometimes I still can't talk about it without crying," said Kari Fitzgerald. "It changes you forever. When he first drove to the end of the road without me, I cried. We have a new sense of awareness. There is Michael before and after. I'm one of the lucky ones because I get my son back. Don't take anything for granted, nothing. Actions speak louder than words. Say what needs to be said so you have no regrets."
Always maintaining his sense of humor, Michael Fitzgerald approaches his upcoming sophomore year studying computer science with excitement over a new chance at life.