Faces of the farmers market
The Reconnect Farmer's Market was held on Sept. 19 from 10 a.m. to 2 p.m. The market included voter registration, baked goods, jewelry, university organizations, sandwiches, popsicles, live music from Ameal Cameron, a university alumnus, and much more.
Frances Chauvin from Blue Ribbon Pies moved to the Hammond area in 1958 and shared her family's involvement with the campus as well as her presence at farmers markets.
"My seven children all went to school here one time or another, and we've been tied up with Southeastern all these years," said Chauvin. "When they started the farmers market, they asked me to be a part of it, and I said I would. So, I started making pies for the farmers market in 1997 and started going to New Orleans in 1998 for the farmers market."
At 86 years old, Chauvin attends markets in Hammond, Baton Rouge and New Orleans. Since learning her pie-making from her grandmother, Chauvin wishes to soon pass on her recipes.
Another popular item at the farmers market was jelly.
Mary Brinkman from Mama Mary's Kitchen has practiced her jelly-making abilities for over 30 years, but she started selling her products in 2009. She explained the process and products she uses to make her jellies.
"I simmer the fruits down, drip them through a jelly bag, and use that juice to make the jellies," said Brinkman. "Jams, I naturally use the whole fruit for that. I try to stay as local as possible. I only use Louisiana strawberries. The blueberries are from Frankliton. The blackberries I grew in my backyard. Naturally, the pineapple, I have to use the canned stuff."
Robin Pringle from Robin's Rockin' Cajun Pepper Jelly started her jelly making as a hobby while having a job as a high school teacher. Since her retirement this past May, she has prioritized her hobby.
"I do, almost exclusively, pepper jelly," said Pringle. "I have three regular jellies, but I am exclusively pepper jelly. I have fruits. I have liquor, and I have herbs. So, that's my focus, and if I think it could make a good jelly, I play with it."
Pringle shared that her most unique flavors are apple bacon flavor, garlic flavor, and anything with liquor.
For those interested in shopping local, the farmers market offers goods to suit people's homemade cravings.
About the Contributor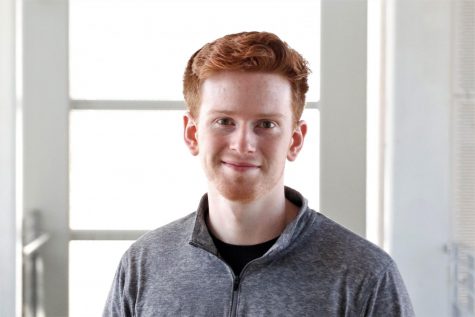 Jacob Summerville, Editor-in-Chief
Jacob Summerville, a history and political science major, has worked at The Lion's Roar since September 2017. A native of Greenwell Springs, LA, Jacob...