Training when running for a marathon
As people get more health conscious, they become involved in activities that help them stay active and vibrant. One such activity is a marathon, which is a 26.2 mile-long distance race completed either by walking or running.
Running helps maintain the proper balance of mental stimulation and physical fitness. As a form of aerobic exercise, running helps keep the heart healthy, prevents obesity and reduces blood pressure. According to the Journal of the American College of Cardiology, "runners had 30 percent and 45 percent lower adjusted risks of all-cause and cardiovascular mortality, respectively, with a three-year life expectancy benefit" compared to non-runners.
According to Statista, the total number of Americans aged six years and older participating in running, jogging and trail running was 47.4 million in 2016 and 55.9 million in 2017.
According to Statista, New York City has the maximum number of finishers in marathons with the count of 51,388.
Megan Rice, a former university student, has been running for nine years now. She ran her first marathon in January 2016.
"I ran two marathons that year, the Louisiana Marathon in Baton Rouge and the New York City Marathon, which is one of the world majors," said Rice. "My third marathon was the Louisiana Marathon again this year, and my fourth marathon, I am currently training for the Chicago Marathon next month and another World Marathon Major. I have been running in general since freshman year of high school."
Rice usually starts with a training plan from Hal Higdon, a former runner. Rice finds it hard to listen to her body.
"Sometimes I just want to hit the mileage the training plan calls for, but sometimes our body has other plans for us," said Rice. "It gets a little challenging too to keep my diet clean since I need to be increasing my calories and not eating everything in sight."
Rice does not completely stop herself from eating the variety of food she loves. She works out in the gym and maintains her strength.
"I've always been the type to treat myself and not ban myself from bad food, but I just have to make sure I'm not eating more bad than good while upping my calories," said Rice. "It's so easy to down a whole pizza during training."
According to a Harvard Health blog post by Daniel Pendick, former executive editor of Harvard Men's Health Watch, "even five to 10 minutes a day of low-intensity running is enough to extend life by several years, compared with not running at all. It shows that the minimal healthy 'dose' of exercise is smaller than many people might assume."
About the Contributor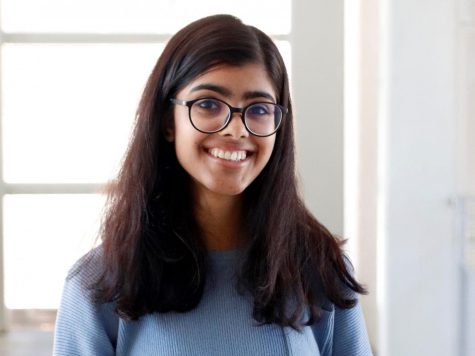 Prakriti Adhikari, Editor-in-Chief
Prakriti Adhikari is an accounting major and an international student from Kathmandu, Nepal. Adhikari has been working with The Lion's Roar since Fall...