Find affordable and quality food
Students do not need to resort to fast food to find a meal under $10.
Whether it is time for breakfast, lunch or dinner, the Hammond area has restaurants that cater to the cravings and wallets of its customers.
William Hall, owner of University Donuts, believes students are attracted to the eatery because the abundance of fast-food options on campus makes students want to taste something homemade every once in a while.
"Sometimes, you want something that feels like your mom cooked for you or your grandmother cooked for you," explained Hall.
In addition to selling donuts and coffee, University Donuts offers breakfast platters and a lunch menu.
"Once more students realize we offer more down-home cooking like the omelets and the biscuits and gravy, they'll come in more often or we'll start seeing new faces," said Hall.
One of the platters, called "Three Deuces From Opelousas," includes two eggs, two pieces of bacon, ham or sausage and a choice between two hotcakes or two French toast halves for $8. The three-egg omelet meals range from $8-10 each.
"I appreciate any and every face that walks through that door," shared Hall. "We'll treat you like family, and we'll feed you like family. You'll get a lot for very little."
Hall explained that many teams from the university regularly visit the diner.
"You'll find the baseball team, the volleyball team, lady's basketball, men's basketball, softball team, the coaching staff," said Hall. "They support us all, and we appreciate everything that they do."
Lee's Diner, a '50s-themed restaurant, has entrees like spaghetti and meatballs as well as Louisiana classics including crawfish etouffee, charbroiled catfish and jambalaya pasta. In addition to the staple entrees, many of their sandwich and po'boy meals cost under $10.
Rebecca Armanini, a junior special education major, explained why she enjoys the atmosphere of the diner.
"The retro theme, the astounding menu selection and familiar faces, since I can't go without seeing at least two friends, makes it feel very home-y," said Armanini.
Armanini enjoys two particular items whenever she visits Lee's Diner.
"I enjoy their shakes the most, especially their butterscotch flavor," explained Armanini. "The shakes are thick, flavorful and never changing. Now, their chicken strips plate, I know, I sound like a 4-year-old, paired with their honey mustard is the best."
Cate Street Seafood Station offers customers a range of seafood, including sushi, tilapia, crab and catfish, and the restaurant also has a selection of burgers, po'boys and steak.
Lexi Fiorella, a waitress at Cate Street Seafood Station, shared why the restaurant appeals to college students.
"Most college students don't have class on Friday," explained Fiorella. "So, it's very convenient and a good price just to go out and have fun. We always have really good music playing, and right now, the weather has been perfect."
Cate Street has a special on Tuesdays and Thursdays from 4-9 p.m. where customers can buy a dozen wings for $7.
Armanini discussed some of the food choices like her favorite artichoke dip with fried pita that she enjoys at Cate Street Seafood Station.
"I have only recently discovered this, yet it is my all-time favorite appetizer," explained Armanini. "Normally, I order several selections of sushi when I go, seeing as the name of the restaurant is 'Cate Street Seafood,' but I do enjoy their pasta and wings as well."
Fiorella shared that the managers try to check in on guests, especially on Fridays.
"The managers try to make it a point to speak with every table about how their experience was because we really want our guests to enjoy every aspect," said Fiorella.
Regardless of the time of day, students at the university can find restaurants with a variety of options and affordable prices.
About the Contributor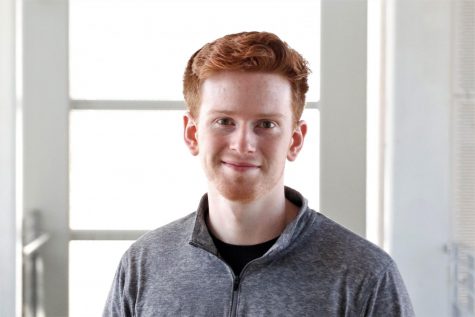 Jacob Summerville, Editor-in-Chief
Jacob Summerville, a history and political science major, has worked at The Lion's Roar since September 2017. A native of Greenwell Springs, LA, Jacob...