Charity run raises awareness for organ donors
"They're taking a tragedy for one family and turning it into hope for another," said Jessica Puissiguer, who's brother, the late Alan Varnado, donated four of his organs.
The Louisiana Organ Procurement Agency hosted the second annual "Operation Life 5K" on Oct. 19 in partnership with North Oaks Health System. LOPA is the federally designated organ and tissue recovery agency for the state of Louisiana. At last year's race, LOPA raised over $8,000 for their cause.
Lana Stevens, a community educator for LOPA, explained how LOPA is involved with the organ donation process.
"We facilitate organ and tissue recovery from deceased patients, and we work with the transplant centers to get those organs and tissues to where they need to go," said Stevens. "We also house the Louisiana donor registry, which is a list of names of the people that have decided in the event of their death, they would like to donate their organs and tissues."
Puissiguer explained why she began to attend the "Operation Life 5K" starting last year.
"Last year was the first year that LOPA really got involved with this, and it had just been a few months since my brother had passed away," said Puissiguer. "LOPA had been amazing for us. They're in the business of making life happen. I don't know what could be more important than that."
According to LOPA's website, over 2,100 people in the state of Louisiana are currently in need of a life-saving organ transplant. 
Stevens expressed how organ donations affect a great portion of the community.
"Someone in this community knows someone that needs a transplant, that has been affected by a donation or transplant – whether they're waiting or they've received already – or they've had a loved one who has passed and was able to donate," stated Stevens. "A lot of people don't realize the huge need in this community, and there's a lot of people in this community that have received." 
Stevens described how "Operation Life" helped raise awareness and support for donor families as well as others who have been affected by organ donations.
"There's a lot of families that get a lot out of this event, whether it's donor families coming to honor their loved ones or all the families coming out to honor the people that have given the gift of life for them," said Stevens.
For more information about LOPA and to view their list of upcoming events, visit their website at lopa.org.
Editor's Note: This story has been edited for clarity and grammar. 10/24/2019
View Comments (2)
Donate to The Lion's Roar
Your donation will support the student journalists of The Lion's Roar at Southeastern Louisiana University. Your contribution will allow us to cover our annual website hosting costs. No contribution is too small.
About the Contributor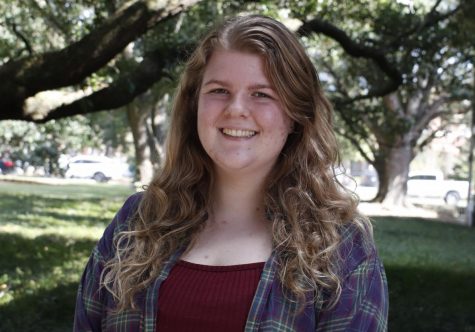 Maggie Tregre, Co-Editor, Le Souvenir Yearbook
Maggie Tregre is an English education major from Baton Rouge, LA. She worked as a staff reporter and editor-in-training for The Lion's Roar from September...