Election season brings a fight for a new big three
With the current academic year beginning to come to a close, SLU's Student Government Association (SGA) elections are just around the corner.
This year, all three major SGA roles have two candidates running for them; no one will run unopposed. The candidates are:
President: Lacey Johnson vs. Joshua Freeman

Vice President: Matt Matthews vs. Javier Amador

Chief Justice: Aaliyah Muhammad vs. Kyle Hidalgo
Current SGA Chief of Staff Lacey Johnson will be running against current Vice President Joshua Freeman for the president position. 
Johnson is running on a platform called RACE, meaning she will focus on resource accessibility, advocating for students, creating student-safe spaces and empowering student voices. She has also served as an orientation leader for incoming SGA students.
"I've learned a lot of things during my time in SGA. Each of these core topics are what I believe the school needs to work on to be greater than it already is," Johnson said.
Freeman's main goal is to ensure every student gets the best experience possible at Southeastern. In addition, he believes every student should be able to create their own Southeastern experience. Freeman is the president of the Kinesiology Student Association and is working to bring back the Tau Kappa Epsilon Fraternity (TKE) to campus.
"If a student is able to change their experience at school, they should be able to. I certainly did with re-establishing TKE and founding the Kinesiology Student Association. I want that for all my fellow students," Freeman said.
SGA Senator Matt Matthews will be running against SGA Justice Javier Amador for the Vice President position.
Matthews' primary focus is closing the gap for marginalized students at the university and working to make everything more accessible to students needing extra help. He is also one of the founding members of Lavender Lions, the LGBTQ+-centered organization on campus.
"I am running for vice president to help close the gaps that marginalized students navigate here on campus. I will work to keep campus inclusive for all students and help amplify the voices and needs of students," Matthews said.
Amador's biggest goal is to see a major increase in student participation in on-campus extracurricular organizations. Amador has previous experience revitalizing organizations in need of new members, most recently in his work to re-establish TKE at SLU with the help of advisors. He said his goal is to encourage classmates to get involved in clubs and organizations. "Take the road less traveled and it will be worth it," Amador said.
SGA Associate Chief Justice Aaliyah Muhammad is running against SGA Justice Kyle Hidalgo for the role of chief justice.
Muhammad is planning on running to push students to be BOLD, meaning to bring new initiatives, bring original solutions to problems, listen and support the needs of students and be determined to promote diversity and inclusion on campus. She has also served as an Associate Justice at SGA for the past two years, bringing years of experience to the table.
"If we can encourage our students to be BOLD, we can certainly bring a new change to our campus," Muhammad said.
Hidalgo is advocating to be the representative voice of the student body, claiming students need to be front and center for decisions to be heard. He serves as a member of TKE and serves as the vice president of the Interfraternity Council, among other things. He also wants to see the campus parking system improved to avoid student frustration, which leads to stress.
"The parking system causes a lot of issues on campus, I think it needs to be changed for better parking. At the least, we could use a Moodle training course for parking so that students can have a chance of having a source for how to handle parking issues," Hidalgo said.
SGA elections begin Monday, April 3, at 8 a.m. and will run until Wednesday, April 5, at 4:30 p.m. Students can talk to the candidates in the Breezeway all week at tabling events and can cast their votes when it reaches their emails on Monday.
View Comments(1)
Donate to The Lion's Roar
Your donation will support The Lion's Roar student journalists at Southeastern Louisiana University.
In addition, your contribution will allow us to cover our annual website hosting costs.
No gift is too small.
About the Writer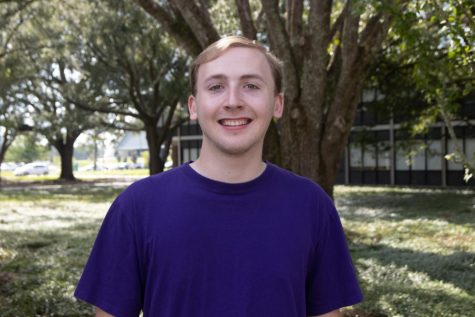 Austin O'Brien, Co Editor-in-Chief
Austin O'Brien is an English major with a Communication minor from Marrero, La. He enjoys different types of entertainment from movies to video games...