Miranda Matise: Fighting through the silence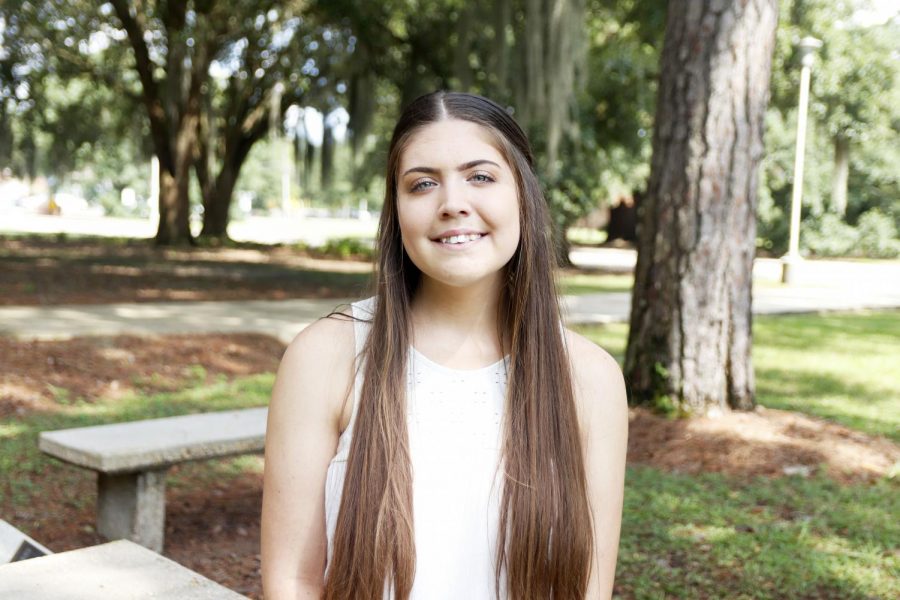 An enchanting melody, the laughter of a child, sweet nothings from a loved one: all beautiful sounds often taken for granted, but for sophomore communication sciences and disorders major Miranda Matise, who started losing her hearing at the age of 13, these precious sounds are fleeting.
"I have bilateral conductive hearing loss – meaning sound has trouble getting through the ear canal," explained Matise. "I have perforated ear drums. I also had a non-cancerous tumor made of skin cells in both ears."
However, Matise did not allow her condition to deter her. Instead, she became passionate about advocating for people with hearing disabilities as part of a high school project.
"I raised money for a nonprofit called Hands & Voices, and I made a 10-minute video that consists of factual information and different interviews of deaf people," said Matise. "I mostly just tried to spread awareness and break the stigma of the community. Deaf people don't need or want to be 'cured,' and they are proud to be deaf. I didn't think I would become so interested and passionate about advocating for the deaf community."
Upon entering college, she saw the need to start a sign language club. Called Sounds of Silence, the club, which just began last year, has 15 active members and almost 40 applicants looking to join.
"With the club, we hope to spread awareness about the deaf community and to break the common stigmas," explained Matise.
In the club, members learn ASL together using online resources.
"Sometimes we play games and a deaf instructor from The Mission Church will come sometimes as well and teach us about deaf culture and more signs," stated Matise. "We try to treat it as a group of friends just learning ASL together. No one is fluent in ASL, and you don't need to know any ASL in order to join."
Hearing loss has impacted Matise's life in more than one way as it has contributed to a growing anxiety about her disability.
"I think communicating with people has been a struggle because not everyone understands or is willing to understand – like turning to me when they're talking or speaking clearly and a little louder when I didn't hear the first time," explained Matise.
Vice President of Sounds of Silence Deanna Guarino, a sophomore elementary education major, has been friends with Matise since middle school and has watched her struggle with hearing loss as well as gain a passion for ASL.
"Miranda is one of the most driven and passionate people I know," stated Guarino. "This organization has helped her grow as a person and accomplish one of her dreams – spreading awareness for deaf culture and ASL."
Matise says that deaf people are her motivation in life.
"In our society, we think that deaf or hard of hearing people can't do anything, but they can," said Matise. "They just can't hear. I'm motivated to spread more awareness on people with hearing loss and how people should just understand that sometimes we need accommodations and that it shouldn't be a bad thing."
Guarino has made connections in the club and advocates for it to all students.
"It is an excellent way to get involved on campus and, because members are only required to attend one meeting per month, it is easy to work into a busy schedule," commented Guarino.
Matise's future goals are to spread awareness and become an audiologist to break the stigmas between the hearing and deaf communities.
"If I become an audiologist, I want to talk to my patients about all of their options: sign language, hearing aids, cochlear implants and the deaf community," said Matise.
The club Sounds of Silence has an interest meeting on Sept. 25 at 5:30 p.m. in room 2218 for students wanting to join.
"They can come see what we are about and learn a few signs to see if they're interested in that," stated Matise. "They can also follow our Instagram @slusoundsofsilence for more information or questions. They can also send us an email as well at [email protected]"
To read more about Matise's experience, visit her blog at mirandarants.home.blog.