Get more involved with Friends of Sims Library
Friends of Sims Library is a community based organization whose goal is to promote and benefit the general well-fare of the university's library. Students can become a member and participate in all that the group has to offer.
While the Sims Memorial Library supports students with they academics by providing resources and a quiet place to study, the library itself is supported by an organization called Friends of Sims Library
FoSL is an organization where people can get involved with the programs and activities that the library has to offer.
"The Friends of Sims Library is a support group and what we do is raise funds to supplement the library's budget," said Eric Johnson, library director. "There is also a board of directors that work with the management aspect as well."
Since founding FoSL, the library has experienced tremendous growth and support over the past few years.
"We created the group in 2008, and it took about a year to get us going with many bylaws, and getting a board put together," shared Johnson. "When we started, we had people of the board that were supporters of the university, and we had to come up with ways to raise money, the most popular being our wine-tasting event."
The wine-tasting event is put on by the board of FoSL, so that its members can get involved.
"We do this event every year with different types of wine and plates of food," explained Johnson. "The people who attend are those from the university, people from the community and regulars of the library."
The annual wine-tasting party has proven to be something enjoyable for many people.
"It is always successful, the first one starting out with maybe 40 people and it's grown by 90 as of last year," explained Johnson. "It's held right here in the library on the second floor."
Not only does FoSL have a wine tasting event, but a tea party as well.
"We do this in the fall, and then also have an annual tea event in the spring where an author comes and reads from their works," said Jeffrey Talbot, executive board member of FoSL.
Each year, FoSL hosts many well-known authors who attend the event.
"We've had authors such as John Pope, who used to write for the Times Picayune, and Poppy Tooker, who's a New Orleans chef and cuisine author," shared Talbot. "She was a favorite for those who attended."
FoSL makes it easy for anyone to join and become a member of the organization.
"There are different levels of membership, all having various fees and depending on each membership, you do get different perks for each one," said Johnson.
Members of FoSL contribute to the success and wellness of the Sims Memorial Library.
"Lifetime members are very honored, and we do list them on a plaque," said Johnson. "Our members also help with the book sales that we host downstairs of the library, which we have in the fall and spring."
The board's goal is to represent not only the library itself, but the students who have access to it as well.
"The board meetings happen about every two weeks, and we're always looking for student's feedback to discuss with each other in those," explained Talbot. "One of our pushes is to try and get students involved in the organization as student-members because we do need their input since the library is provided for them."
FoSL has had an impact with the resources and materials that are around the library for student's use.
"All of the charging stations around the library have been provided by FoSL, new and updated furniture, laptops, iPads and just whatever we happen to need more of that would benefit our students," said Johnson.
Johnson encouraged everyone to participate in the organization.
"Join the group, even as a student, we're always looking for more ways to get everyone involved at all times, " said Johnson.
Leave a Comment
Donate to The Lion's Roar
Your donation will support The Lion's Roar student journalists at Southeastern Louisiana University.
In addition, your contribution will allow us to cover our annual website hosting costs.
No gift is too small.
About the Contributor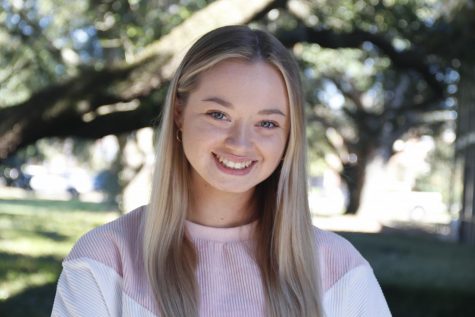 Gabrielle Wood, Staff Reporter
Gabby Wood is a communication major with a focus in public relations. Outside the office, you can find her trying new coffee shops and endlessly scrolling...