OPINION | The villainization of Angel Reese
College basketball star and Baltimore native Angel Reese led the LSU women's basketball team to its first-ever NCAA Championship. 
She led LSU past the Iowa Hawkeyes in a 102-85 victory. Reese dropped 15 points, 10 rebounds and five assists in the win. She averaged 23 points and 15.4 rebounds per game for the entire season, shooting 2.5% from the field. 
Her performance throughout the entire tournament sparked many basketball fans online to call her one of the best college players in the whole nation. Many other fans also said Reese and Iowa's Caitlin Clark would rejuvenate the WNBA's popularity once they are eligible to enter the draft. 
However, the praise for Reese was short-lived. Toward the end of the championship game, many basketball fans – mostly white – did not like how Reese was celebrating. They called her "classless" and used other vulgar language to describe her because she was talking trash to Clark. 
The hypocrisy of these fans has been called out by some sports athletes like Dolphins' wide receiver Tyree Hill and Lakers' forward LeBron James. No one seemed to have a problem with Clark talking trash, making gestures on the court and screaming at the crowd in previous tournament games, yet they did with Reese. 
This social media outrage can all be boiled down to racism and the mistreatment of Black women in America. For hundreds of years, Black people have been disrespected and faced violent acts from white people. Even when a Black person succeeds, a racist person is always there to bring them down. 
Some white people saw Clark talking trash and labeled it "excitement" or said it was "good for the game of basketball." However, when a Black woman does the same thing, it's "ghetto" and "classless." Those saying "she should know how to behave" are perpetuating age-old racist tropes of Black people being uncivilized, or at least, less civilized than their white counterparts. 
Even in the NBA, fans of all colors loved it when Michael Jordan, Kobe Bryant and Kevin Garnett talked trash. It was a part of their "style of play," yet Reese was not awarded the same privilege. Instead, she got villainized by the fans and multiple media outlets, like Barstool Sports. This further illustrates how Black women are often not only the target of racism but also sexism – a bigotry double whammy that is undoubtedly related to the fact that Black women are paid significantly less than their white counterparts.
"But when other people do it, y'all say nothing. So this was for the girls that look like me, that's going to speak up on what they believe in. It's unapologetically you. That's what I did it for tonight. It was bigger than me tonight. It was bigger than me," Reese said following the Tigers' win. 
WNBA Star Natasha Cloud came to Reese's defense. She put out a series of tweets calling out the hypocrisy and racism from fans. Cloud stated white people are labeled "passionate" and "competitive," while Black people are branded as "thugs." 
To add fuel to the fire, on April 3, First Lady Jill Biden said she wanted to invite LSU and Iowa to the White House to celebrate their championship runs. While it is extremely common for the winning team to visit the White House, never in any sport does the losing team get an invite. If Iowa had won the championship instead of LSU, it is doubtful the First Lady would have extended an invitation to Angel Reese and co.
Clark recently commented on the situation, saying she believes Reese's actions were perfectly fine and the backlash she has been getting is uncalled for. 
"I don't think Angel should be criticized at all, you know, no matter which way it goes, you know, she should never be criticized for what she did," Clark said while guest appearing on ESPN's show "Outside the Lines." 
Clark also made comments on Biden's offer for Iowa to visit the White House. 
"I don't know. I don't think runner-ups usually go to the White House. I think LSU should enjoy that moment for them, and congratulations, they deserve to go there," Clark said. 
This racial hypocrisy is embedded deep into sports (and society as a whole) and continues to be a massive problem. Instead of celebrating a Black woman for a huge accomplishment, especially this early in her career, we are focusing on her trash talk. 
Reese and her teammates should be congratulated for their efforts and historic achievement, not put down because of how they celebrate. It is tough to win a championship at any level in sports; those teams and players should be commended for doing so. 
Black women in America have been disrespected for far too long, and it is past time we start celebrating their goals and accomplishments. When it comes to basketball, now is the time to empower Black women to lead the game into a new, better era. Angel: keep talking that trash. And most importantly, keep being you.
View Comments (2)
Donate to The Lion's Roar
Your donation will support The Lion's Roar student journalists at Southeastern Louisiana University.
In addition, your contribution will allow us to cover our annual website hosting costs.
No gift is too small.
About the Contributor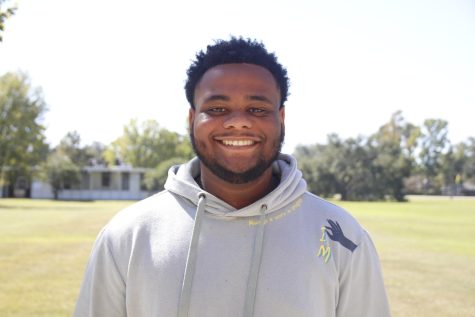 Troy Allen, Staff Reporter
Troy Allen is a Mass Communication major with a concentration in sports journalism. He joined the Lion's Roar as a staff reporter in September of 2022...