Sound for the sports
What do Neil Armstrong, Gwen Stefani, Andy Griffith, Steven Tyler and Bill Clinton all have in common? All these famous individuals were once a part of their school's marching band.
Since its reappearance in 2004, the "Spirit of the Southland" has been the title of the university's marching band. The "Spirit of the Southland" offers opportunities for music and non-music majors alike to perform at each home football game and other game day events.
For some, marching band seemed like a must-do since high school.
"I have always wanted to be in a college band program and seeing other universities in high school inspired me to continue marching band in college," said Jarian Jordan, a senior music major.
Jordan has been playing music since the sixth grade, where he learned to play the trumpet, French horn and the mellophone. He played mellophone for the "Spirit of the Southland" until he became a drum major.
For freshmen in marching band, their experience has begun to develop.
Bryann Caro, a freshman undecided major, wanted to become a music minor at the beginning of her college career. As a part of her minor, she joined the marching band as center snare and has become the drum captain.
Caro pointed out a difference between her high school and college experiences in the band.
"Every week, there's a new show and new music to learn while in high school, at least for me, it was just perfecting one field show throughout the whole season," said Caro.
Jordan shared that his favorite year of marching band was his freshman year since he was "new to everything, and there were many surprises."
For marching band, practice does not discriminate. For freshmen and seniors alike, several hours of practice accompany each week's schedule.
"The biggest challenge with marching band is practice," said Jordan. "We practice three times a week in the hottest part of the day, and it is more physical than people may think. The reality is one must play their instrument while marching, while staying in tempo and also keeping feet in time with everyone else around them."
Caro shared how long she dedicates to weekly band practices.
"On the field, we practice Monday, Tuesday and Thursday," said Caro. "Monday is a two-hour practice. Tuesdays and Thursdays are an hour and a half, and on Thursdays, the drumline has a separate practice for an hour and a half."
Caro said that the drum captain is in charge of "making sure the drum line stays in order and making sure everyone knows what they're doing and running the drum line through their warm-ups."
Reflecting on his time in the band, Jordan shared that he would not change anything about his marching band experience. He encourages underclassmen and those considering marching band on a collegiate level to follow that passion.
"Marching band has been a great experience," said Jordan. "Since my freshman year, I have been moved to section leader and now drum major. The community is great here. I can honestly say I know 200 people well because of marching band."
Caro gave some advice for high school seniors who are looking to pursue marching band experience.
"Don't be intimidated," said Caro. "If you practice and keep up with your music, it's not going to be bad at all. Practice beforehand if you're having auditions. Don't look at the music the day before."
About the Contributor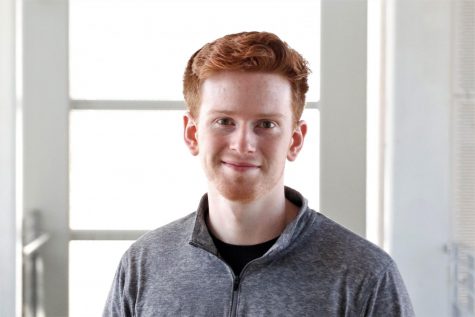 Jacob Summerville, Editor-in-Chief
Jacob Summerville, a history and political science major, has worked at The Lion's Roar since September 2017. A native of Greenwell Springs, LA, Jacob...