24 hours of theatrical horror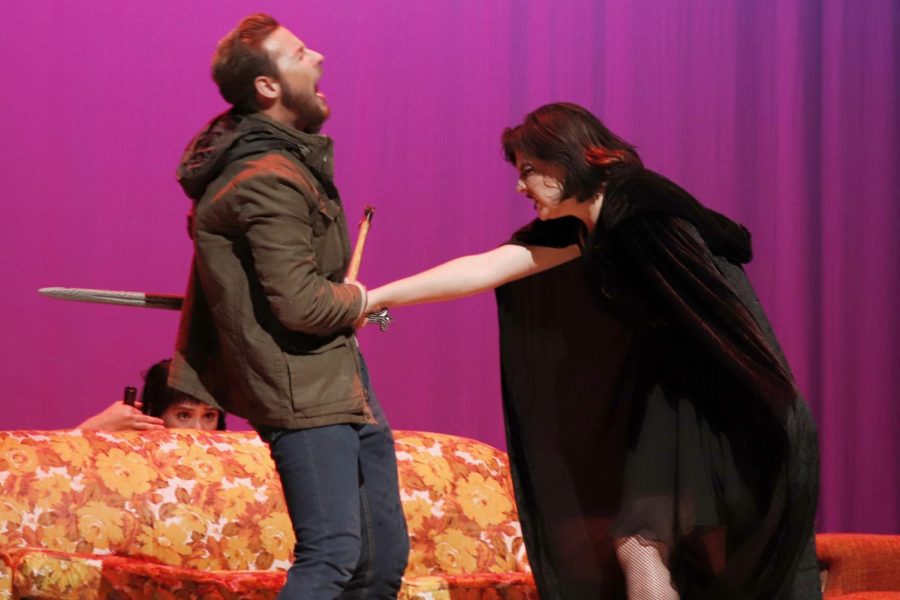 With roughly 50 people, Alpha Psi Omega condensed a theatre production into 24 hours to kick off the "Hammond Horror Festival."
President of APO Taylor Meng, a junior English education major, served as scenic designer for the play. She described the performance as "one of APO's favorite events of the year."
"Having 24 hours to put on a production puts the heat on everyone," said Meng. "It teaches the actors to get in the game and stay in the game from the moment they get there until the moment the show ends. It is a great mini lesson in real world theatre."
The 24-hour theatre event "Seven Frightening Phobias" consisted of seven parts, each centered on a different phobia. Production and the clock began with writers receiving a prompt at 8 p.m. then submitting a script at 3 a.m.
Payton Core, a senior general studies major, wrote "Arachnidream." From given information about available actors, costumes, props and makeup, she formed her script.
Core said, "You're given a brief description about your actor and what they can probably handle because they have to learn this in a few hours, and then you have to form an entire script off of what you're given. Sometimes there's such specific points, it's hard to web it all together and make it look good."
Though Core is familiar with last minute projects, the 24-hour theatre event posed its own challenges.
Core said, "I was typing all of this on my laptop, which is old and might serve me better as a cutting board at this point, and I kept trying to email it to myself and make final last changes, and my laptop crashed. It was already two in the morning, so I had an hour to fix this, and nothing was working. I couldn't get anything to work on my laptop, and I just had to wait for it. I was panicking for a very long time."
Stage Manager Katy Baronich explained how her part in "Seven Frightening Phobias" extended beyond 24 hours, starting months before to line up participants. 
"It's mostly a lot of emails 'till about two weeks before the event," said Baronich. "Then, myself and a board member from 'Hammond Horror Festival' sort the actors into what scenes they will be in, who their writer will be, what are they writing, and who is directing it. The hardest part is keeping it secret because you get so excited about the possibilities."
Baronich's day began at 5 a.m. with printing out scripts, schedules and any other necessary items, and after a meeting with the production team, the "whirlwind of rehearsal, tech and show" began according to Baronich.
"The scenes begin rehearsing, and the tech team starts to read the scenes to see what they are dealing with," said Baronich. "After a couple of hours, myself and the tech team go around to each room and see what they will need. What kind of furniture, props, lighting and sound are required to make this happen? Once we've visited all the scenes, props get pulled from stock, and whatever we don't have, the props master has to go buy."
Each scene was allowed 15 minutes of technical work, determining lighting and furniture placement, and from there, the rest of the production was rehearsal and final preparation.
Taylor Bennett, a senior English major, performed in "Pop/Pop." She shared her timeline for the event as an actress.
"I arrive at 7 a.m., and I get my script and who I'm with, and then basically from 7 a.m. to 6 p.m., we are learning lines and rehearsing," said Bennett. "So, that's almost like 12 hours that I've got to learn lines. As you saw, some people have a lot of lines, and then after that, we're getting ready and costumed for about an hour, and then we show it at 8."
Miranda Miller, a junior general studies major, performed in "Fear of Death." She described how she felt rehearsing for 11 hours. 
"It's a big, giant adrenaline rush because you're just rushing, rushing, rushing to get it down, and you do the same thing over and over again," said Miller. "Acting on a time crunch is always interesting because you've got to remember your lines, got to remember your walking, all that stuff."
Though full of difficulties, Baronich enjoyed seeing the production come together.
"There is nothing else like a 24-hour play festival in the world of theatre," said Baronich. "It's a truly wonderful experience, and my favorite part is that it allows people in our department to explore different areas of theatre for a day. We had many tech people acting this year, and they did a great job."