Narro rides into fourth year
After decades of golf experience, Jake Narro, head coach of golf, started his fourth season with the university.
Narro, who grew up in Meridian, Mississippi, first played a game of golf at the Lakeview golf course when he was 2 years old. He discussed his journey since then.
"My father helped me the most as he introduced me to the game of golf," shared Narro. "Other than that, my fellow Professional Golfer's Association of America professionals have been instrumental in helping me with my golf game. The first 23 years of my career was not in coaching. I was the head golf professional at Oak Knoll Country Club and among other sports. I love how calm and peaceful the sport of golf is. When the opportunity became available, I jumped in head first, and I have not regretted it since."
Coaching Division I golf makes Narro feel special.
"Practice and golf tournaments would have to be my favorite aspect of coaching," stated Narro. "You get really close with everyone. It is quite a bonding experience to hang out on the practice tee and traveling to all of the different golf tournaments. It is very special being a Division I head coach. It gives you instant credibility."
Narro found it hard to find a negative aspect of his coaching career.
"There is not many negatives that come along with coaching, but if I had to pick something that I did not like, it would be telling a guy he cannot travel with the team anymore," explained Narro.
William Meyers, junior golfer, feels that Narro hugely impacted him in his athletic career.
"Through his knowledge of the swing and on-course work, I do not think I would be anywhere near the golfer I am today without that," said Meyers. "In my career specifically, he has helped me with my course management, with what the wind is doing, what club to hit, what shot to hit. He has helped me also with my mental game of not trying to make everything perfect but how to actually play the game and get the ball in the hole."
Off the course, Meyers described Narro as a father away from home teaching his players how to be men.
"He teaches us how to be leaders through his actions of community service and helping us with school-related issues," shared Meyers. "He will even throw in girl advice every now and then if we are lucky. He's been awesome so far. We've spent a lot of time on the range messing with each other about the golf swing, and it's some time I will cherish forever. "
The university golf team will have its next invitational on March 18 at the Toyota Invitational in Lake Charles.
About the Contributor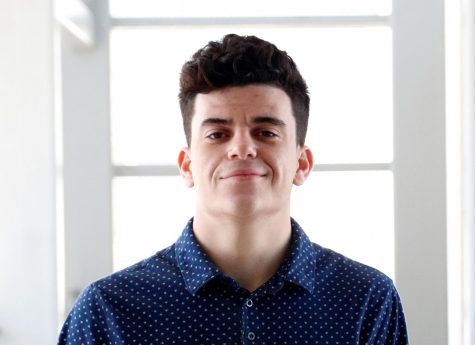 Gerard Borne, Editor-in-Chief
Gerard Borne is a communication major from Norco. Borne began working at The Lion's Roar in the fall of 2018. Borne plans to become a sports agent upon...