Vinyl makes a strong reappearance
A decades-old music platform has risen back into popularity.
The Recording Industry Association of America released an article stating that some people enjoy vinyl because they want a more direct connection to the music through a physical copy, and others enjoy the sound quality better than digitized sound.
Tanner Henry, a sales associate at 2nd & Charles, got interested in vinyl through his parents' enjoyment of the music platform.
Having a collection of vinyl that spans several decades, Henry believes that the growth of vinyl popularity is partly due to the product's historical value.
"People can see, 'Wow, this has been around since the '40s and '50s,'" said Henry. "'This is what my parents grew up with and their parents, and their parents.' I think people, whether they buy it or not, they gravitate towards it because it's kind of like a tangible art museum."
Keith Bancroft, an associate professor of biological sciences, shared that The Beatles were popular whenever he was a teenager. He explained that vinyl's popularity started to fade with the creation of cassette tapes, but vinyl disks also had a flaw.
"Albums would wear out very quickly," discussed Bancroft. "You could scratch them very easily, and that was one of the reasons why I think people moved into technology."
Now that vinyl has grown back into mainstream attention, Bancroft, who owns around 1,000 limited plays, shared that the quality of the disks themselves had improved – the weight of the vinyl record has doubled. In addition, the newer equipment needed to play a record helps the disk last longer.
In terms of sound quality, Henry said that there is a warmth in vinyl records that enhances the sound.
"There's a lot of depth in vinyl, especially when there's not a lot of scratches and pops," explained Henry.
Joe Burns, a professor of communication, shared that listening to a record requires more interaction as opposed to digital methods, which may attribute to the former's resurgence.
"You've got to get it out," said Burns. "You've got to put it onto a turntable. You've got to lay the needle down. You are choosing to listen to that record. So, you will be more attentive whereas I've got 5000 songs on my phone. I get into my car. It's set on shuffle. Whatever comes up, comes up. It's background – it's there."
Along with the tangibility and interaction, Ralph Wood, a professor of kinesiology and health studies, explained that the addition of an older product appeals to its original buyers.
"There's those of us who have always bought records, and now it's just back," shared Wood. "So, now more things are available, and I think that that has had an impact on sales as well."
The RIAA article shared that in 2005, revenues for vinyl were under $50 million dollars in the United States. A decade later, revenue has risen over $400 million.
A 2018 article by the British Phonographic Industry stated that in the United Kingdom between 2007 and 2017, vinyl record sales had increased 1,892%, with 4.1 million LPs bought in 2017.
Starting in 2008, Record Store Day is an event occurring in April that aims to celebrate independently-owned record stores.
"Bands and labels put out short runs of either classic albums or limited edition stuff," explained Wood. "The goal was to put people back into record stores, and that has brought people to record stores. Certainly, there are more record stores now than there were 10-12 years ago."
This year, Record Store Day will be on April 13.
Although vinyl records can be bought online, Wood believes that buying vinyl in a store is an experience of its own.
Wood shared, "You can buy them online, but there's something kind of magical about flipping through the stacks in a record store."
With the holiday coming up this week, music enthusiasts can shop for vinyl at participating stores, whether it's for the novelty of the medium or for the appreciation of its quality.
About the Contributor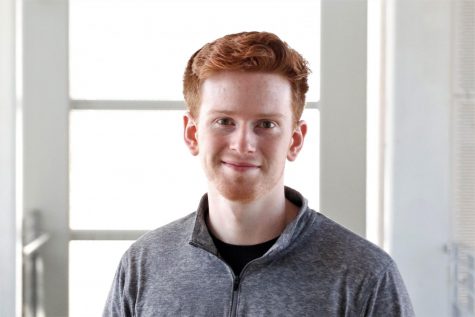 Jacob Summerville, Editor-in-Chief
Jacob Summerville, a history and political science major, has worked at The Lion's Roar since September 2017. A native of Greenwell Springs, LA, Jacob...