Marching programs enrich student band instructors
A passion for music and years of experience in marching band has driven two university students to give back to local programs through their tutelage.
Maryssa Chartier and Cullen Hinkle, both senior music majors, have instructed at summer marching programs throughout their time as college students. Between the two, they have worked at seven different middle and high schools.
Having worked at Lutcher High School and Slidell High School for the past two years, Hinkle discussed how his role varies depending on the program.
"At Lutcher, my job was to do just about everything," explained Hinkle. "I was teaching these kids how to march, from teaching them how to play, teaching their whole entire band at one time. At Slidell, I go around and help while the band director is actually doing the full-band teaching."
Chartier shared that her role also depends on the program, saying that her main responsibility is to educate the students.
"Some camps I have only taught flute sectional and lessons, which is my primary instrument, while other camps I have taught woodwind sectionals and marching fundamentals and techniques," said Chartier. "It all depends on what the band director is looking for on their staff team."
Hinkle sees the summer band camps as a way to build experience in music education.
Hinkle shared, "When I actually do go get to teach, I'll know a lot of different things because the whole entire time, I'm basically picking up on things while I'm there, learning from the other people that are helping and from the instructors and from the kids, honestly. The kids teach you some stuff too like, 'Well, the way you said that wasn't the best. Can you reword that?'"
Chartier discussed that as a high school student in marching band, her role was to absorb knowledge.
Taking a role as an instructor has made Chartier take a more mature outlook on summer programs.
"I must be the responsible party and educate students as well as keep them in line behavior-wise," shared Chartier. "I can no longer be the friend figure but must be the adult."
Chartier has also taught private lessons and sectionals throughout the school year at some of the programs.
Having participated in marching band in high school, Hinkle explained that there is more motivation to be at camp in his current position because of his passion for teaching students.
Hinkle enjoys seeing students succeed with new techniques in such a short period of time.
"You go from knowing nothing to knowing everything, and it's really nice to watch these certain students' lightbulbs go off," said Hinkle.
Chartier appreciates watching the hard work of the students pay off.
"One of the greatest memories I have is to see the first run of the marching show after three plus weeks of working endlessly with the students," shared Chartier. "The pride on their faces is beyond gratifying and makes every hour in the sun worth it."
About the Contributor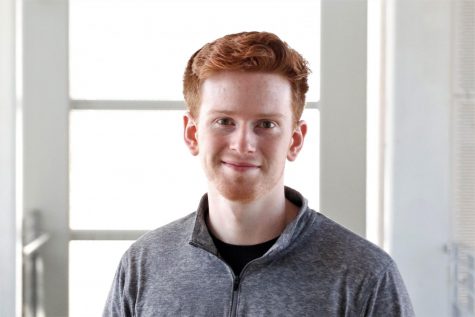 Jacob Summerville, Editor-in-Chief
Jacob Summerville, a history and political science major, has worked at The Lion's Roar since September 2017. A native of Greenwell Springs, LA, Jacob...