A change in pace after graduating
Four university alumni shared their experiences of post-graduation life and how their plans either followed their initial path or went in a different direction.
Nakia Merrill graduated from the university in 2003 with a bachelor's degree in communication and a concentration in TV production. He worked on BET's show "College Hill" during his last semester in college and wanted to work with music videos once he graduated.
After moving from job to job over the past several years, Merrill now works in higher education in Dallas.
"You can't plan for the unexpected," shared Merrill. "Nothing went as planned as far as what I wanted to do, even certain relationships I thought I would have, both from a personal and a professional standpoint. So, you have to be able to adjust on the fly."
Allie Dyer, who graduated with a bachelor's degree in 2017 in marketing and with an MBA in 2018, initially wanted to work with her father in West Virginia to get a feel for the corporate lifestyle.
Dyer explained that after working with her dad for a month, she believes that working independently better suits her aspirations.
Dyer said, "My father was an entrepreneur for part of his life, and I was able to witness the self-actualization that gave him, and that is really what I want from life, not to be tied up in bureaucratic yellow tape, going to meetings before the meeting to just have another meeting."
Life after college still has projects and tests, according to Dyer.
"Projects are getting a house loan, and tests are meeting deadlines," explained Dyer. "I miss seeing my friends in the halls and just going to grab a coffee. You are paying for school, but work is paying you, so there is a fundamental change in how you view the two. It is almost as if a switch is flipped. There is no more summer break or winter break, no more skipping a class because you aren't feeling well. You have to decide, 'Am I sick enough to miss work?' and the answer is usually, 'No.'"
After graduating in the Fall 2018 semester with a bachelor's degree in political science, Seth Leto now works for his family's security company.
Leto discussed that he got a sense of life after college during his senior year at the university.
"Before I even graduated officially, I was married and moved out on my own," shared Leto. "So, I had myself and my wife to take care of. Really, I quickly jumped into the real world, and so I didn't have much of an expectation."
Leto explained that his priorities shifted after graduation.
"In college, I was very much focused on personal growth and getting involved on campus and doing all that," said Leto. "When I graduated and got a job with the family business, it was kind of like, 'What can I do to help grow the company? What can I do to support my wife?'"
A graduate in management in the Fall 2017 semester, Anna Strider expected life to slow down after graduation. For her, this did not happen.
Strider explained that not seeing familiar faces from campus affected her.
"When you leave the school atmosphere of seeing the same people daily, who are all doing the same thing as you, taking tests, writing essays, studying for days on end, you realize the sense of community you had and the friendships that you had created," discussed Strider. "Without that mutual connection in daily life, you have to work hard to keep up with those people."
For those about to graduate, Merrill shared that networking after college is essential.
Merrill said, "People like to say, 'It's not what you know. It's who you know,' but I was told that you take the step further: 'It's not who you know. It's who knows you.' I can say that I know you, but if you don't say that you know me, then it has no merit of me knowing you."
Strider encouraged students to find time for themselves before being consumed with work.
"Take a leap of faith and take the time to check something incredible off your bucket list," explained Strider. "Travel somewhere adventurous, taste a unique flavor and discover yourself before life becomes bogged down with responsibilities."
Leave a Comment
Donate to The Lion's Roar
Your donation will support The Lion's Roar student journalists at Southeastern Louisiana University.
In addition, your contribution will allow us to cover our annual website hosting costs.
No gift is too small.
About the Contributor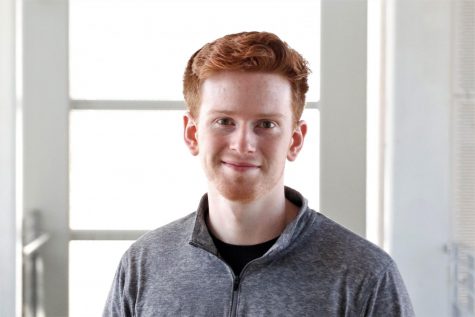 Jacob Summerville, Editor-in-Chief
Jacob Summerville, a history and political science major, has worked at The Lion's Roar since September 2017. A native of Greenwell Springs, LA, Jacob...