'Strawberries, Guns, and Milk' retells history
The Vonnie Borden Theatre celebrated Tangipahoa Parish history through historical and cultural references in a play.
On Sept. 20, "Strawberries, Guns and Milk" was performed. The play written by Jim Winter, associate professor of acting and directing, explores 150 years of Tangipahoa Parish history through historical and cultural references with a modern, comedic twist.
The play was directed by Benjamin Norman, technical director and adjunct instructor of theatre. Norman explained what his job consisted of as the show's director.
"Because it's a written play and it's not all improv, a lot of the references are all written by the playwright, and so it's my job to make sure most, if not all, of those references are included," said Norman. "My interpretation of how those things are included, that's my job. How do I show Hurricane Katrina on stage? How do I bring Brittany Spears on stage? Those are the things that I get to choose."
Chloe Rabuck, a freshman art major, recalled her experience as an audience member.
"The performance was extremely funny," said Rabuck. "I usually can't sit through a play without feeling tired or losing interest, but this one was entertaining 100% of the way through. I feel like I learned a lot about Tangi culture."
Winter commented on which part of the final production he was most proud of.
"I thought the scene where Irma Thomas sang the Hammond Song was the best part," said Winter. "What's funny is, I was encouraged by some people to cut that scene out of the play, and it got the biggest applause and reaction from the crowd on the night I saw it."
Camille Bechac, a junior communication major, portrayed the character Flora in the play. Bechac explained how long she has been participating in theatre.
"I've been doing theatre since kindergarten," said Bechac. "I've always had theatre as a part of my life. It's always been a place that I can find comfort and a place that I can find creativity."
Bechac also described what she enjoys about the theatre community here at the university.
"I found a lot of really devoted, passionate and kind people here," said Bechac. "I know that all of the people that I'm on stage with are so dedicated and so hardworking. I feel as if I'm in a place where everybody wants to pursue their careers or they want to flourish in their craft. It's really great to be among people that have the same goal and the same drive as you, especially when you're teamed up with amazing mentors like Ben Norman."
Norman expressed what it was like to work with the cast of the production.
"I've worked on numerous shows in my entire life, from design team, cast production team, all of it," explained Norman. "It's been one of the most pleasant experiences in my entire life. Everybody's wonderful willingness to just put in the work and commitment to this process has been fantastic. The students here are amazing, and I can't say that enough."
The next play that will be shown is "Three Sisters," written by Anton Chekov and directed by Clarence Gilyard in November. Shows are free for university students with the presentation of their student ID.
Leave a Comment
Donate to The Lion's Roar
Your donation will support the student journalists of The Lion's Roar at Southeastern Louisiana University. Your contribution will allow us to cover our annual website hosting costs. No contribution is too small.
About the Contributor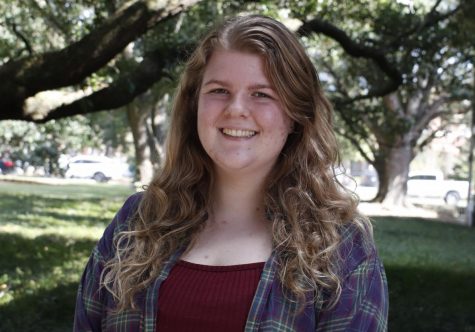 Maggie Tregre, Co-Editor, Le Souvenir Yearbook
Maggie Tregre is an English education major from Baton Rouge, LA. She worked as a staff reporter and editor-in-training for The Lion's Roar from September...