Men's basketball starts a new chapter this season
After finishing the last season with a 17-16 record and a 12-6 record in the Southland Conference play, the men's basketball team is preparing for the fall 2019 season.
This year, there are seven incoming freshmen on the team. David Kiefer, head coach, explained how having so many new members can be beneficial to the team.
"They're still a little nervous and trying to do everything right," said Kiefer. "They're trying to do everything you ask them to. They're sponges trying to learn everything, which is good. They don't know everything, but at the same time they haven't developed those bad habits yet, so they're trying to please us by working hard every day and doing what we ask them to do. They still have a long way to go, but they're very enthusiastic and working hard."
Kiefer worked as an assistant coach for the men's basketball team for four seasons before being named the head coach in July. In addition, several other members of the coaching staff were appointed prior to this season. Kiefer feels that the staff he will be working with will be a good fit for his coaching style.
"A lot of these guys, I've known them for over ten years," explained Kiefer. "So, it's important to me to hire people that I trust, where you know what they're really bringing to the table. I'm obviously biased, but I think we have the best staff in the conference. I think that everybody has a unique individual talent. Most importantly, I think that they can cover my deficiencies, people that are good at what I'm not good at, so they can pick up the slack."
Von Julien is the only senior on the team. He explained what he believes will be the toughest challenge for the team to overcome.
"The toughest thing probably would be adversity," stated Julien. "If we lose a couple games, just trying to get guys to stay on track and let them know that we still have a whole season ahead of us and that we don't really have to get down on ourselves, but just fight."
Kiefer explained that although the team's ultimate goal is to win the Southland Conference tournament, his goals also include ensuring the academic success of his players.
"Every year, the goal is going to be to win the conference tournament," said Kiefer. "All of our seniors, Von being the only one, most importantly before the tournament is getting them graduated. Obviously, we want to win basketball games, but we want these guys to be successful in life. Just trying to get them better every single day on and off the court. The ultimate goal for sure is getting to the tournament, and that will come if we practice hard every day and do what we're supposed to do."
Brandon Gonzales, a junior forward, shared some of Kiefer's goals.
"I'd also like to win the conference championship, but also seeing how we can grow as a team," shared Gonzales. "That's also part of the goal."
Both Gonzales and Julien encourage all students to come out and support the team during their home games.
"It would be nice to have a student section with everyone going crazy," said Gonzales. "Everybody trying to intimidate the other team, just being loud."
Julien wants all students to support the team.
"We need everybody. We need all the Southeastern students there," expressed Julien. "They motivate us, they get us going, get our adrenaline pumping. We love to have them there."
Following their exhibition match against William Carey, the team's first game will be against Tulane on Nov. 6 in New Orleans at 7 p.m.
Leave a Comment
Donate to The Lion's Roar
Your donation will support the student journalists of The Lion's Roar at Southeastern Louisiana University. Your contribution will allow us to cover our annual website hosting costs. No contribution is too small.
About the Contributor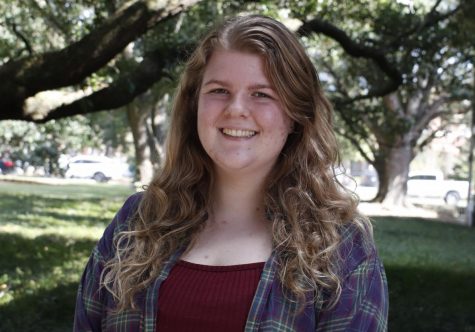 Maggie Tregre, Co-Editor, Le Souvenir Yearbook
Maggie Tregre is an English education major from Baton Rouge, LA. She worked as a staff reporter and editor-in-training for The Lion's Roar from September...