International Initiatives hosts annual Study Abroad Photo Contest
Students participating in the Study Abroad program had an opportunity to enter a photo contest.
The International Initiatives Office will announce the winners of its annual Study Abroad Photo contest during International Night in the Student Union Ballroom on Nov. 18. The winning photos will be displayed in the Sims Memorial Library from Nov. 18-21. Winners will receive gift certificates and other prizes.
According to the International Initiatives Office, photos will be judged in five categories, including urban landscapes, people/culture,' nature/outdoor, lions abroad' and people's choice.'
According to Dr. Lucia Harrison, director of the International Initiatives Office, the exhibition was initiated to promote awareness of the Study Abroad programs that the university has to offer and to allow participants to share their experiences.
"The Photo Contest is a way to spread awareness of our study abroad programs," stated Harrison. "This exhibition gives study abroad students the opportunity to share their unique international experience with the Southeastern community. Every photo faculty and students take tells a story, and we want to see the world through their lens."
Mariela Sanchez, study abroad coordinator of language & culture in Spain, was the faculty winner of the 2018 Study Abroad Photo Contest. She explained that the photos represent the importance of stepping outside of one's own culture to learn about others' ways of life.
"When I show these pictures, it's not only a thing of awareness," said Sanchez. "It is beyond that, more than that. It shows a totally different culture that the majority of students here, they are not familiarized with that. So, they live in this world, which is their own culture, which has many different things and beautiful things, but what you see in these countries, there's so much history that you need to see."
Paiton Hebert, an alumnus of the university, participated in the Arts & Sociology in Cuba program in 2018. Hebert's winning photos categories include urban landscape, people/culture and people's choice.
Hebert's favorite winning photo, 'Man singing a prayer to student after seeing he had a broken toe,' received first place for the "People/Culture" category.
"Cuba was different for me than anyone else in the whole entire group because four days before the trip," commented Hebert. "I had surgery on my big toe, and I was in a boot on a knee scooter. He only had 3 strings on his guitar, and he was just sitting there and singing his heart out and talking about how much he loved Jesus. He saw me and translated and said 'My friend, what is wrong?' And it was just a nice moment, because you could tell that he was compassionate, and I also think that his face is very aesthetic."
Hebert discussed the ways visiting Cuba that year altered his outlook on life.
"Going there really made me appreciate living in a first world country," said Hebert, "Because you don't know how many things you take for granted until you go and visit those places."
Students can vote on the 'People's Choice' category of the contest on the program's Instagram page @southeasternstudyabroad.
About the Writer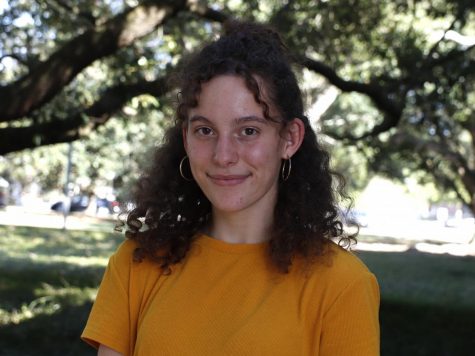 Elana Guillory, Staff Reporter
Elana Guillory is an art major and lives in Ponchatoula. She worked as a reporter for The Lion's Roar from the fall of 2019 until April 2021, and now she...