Students host university's first Lion Aerobics class
Lion Aerobics brought students together on Thursday, Nov. 14 at the Pennington Student Activity Center.
Torin Mcclanahan, senior communications major, teamed up with junior accounting major Don Lawrence to bring Lion Aerobics to the university. Lion Aerobics taught a set of high-energy choreography to students.
The event was opened to everyone, and according to Torin Mcclanahan, coordinator of the event, Lion Aerobics was inspired by jiggaerobics, a program that teaches easy-to-learn choreography to students.
"Jigging is basically a common thing in the South where you get together, and you play this real hype music, and you just moving your body and going with the music and just doing all types of dances," said Mcclanahan. "The songs we had, it's like a DJ mix of each jigging style of music. I saw what Jiggaerobics was doing and wanted to implement the same thing at Southeastern."
As the first-time instructor of Lion Aerobics, Lawrence was impressed with the energy and ease that people followed along with.
"I liked the energy that people brought," commented Lawrence. "I like the fact that they were willing to just listen and follow along. We didn't have any people with attitudes that didn't want to participate. I liked that we had fun. That's all that I could've asked for."
For people who have trouble working out at the gym, Mcclanahan feels that Lion Aerobics is a way to work up a sweat while having fun at the same time.
"It's the only way I like to work out because the gym is not for me," said Mcclanahan. "It's for some people but not for all. I like to dance. That's how I get my workout, that's how I sweat it all out. Dancing is something that everyone can do, whether it's rock & roll, hip-hop, ballet, jazz, whatever. Everybody has a commonality of dancing with a type of music."
The session did not experience a satisfying turnout. Because this was the university's first Lion Aerobics class, Mcclanahan believes that many people were unaware of it. He also believes that conflicting events affected the number of participants. The session also ended early to allow time for people to attend a different event set to take place that evening.
"We could've had more, we had 2 or 3 and that's expected, a lot of people don't know about it yet," explained Mcclanahan. "Hopefully when we do this again, we'll have a bigger turnout, especially since we didn't know there's 2 events going on today. That could definitely impact the event."
Although not everything went according to plan, Mcclanahan still enjoyed Lion Aerobics and anticipates hosting it again next semester.
"I like that everybody came to show their style of dancing," said Mcclanahan. "Not everybody's the same, so everybody came out to show their own uniqueness. Everybody can move their body a little bit different. Dancing is like another personality for some people. So you get to see that other side of people, that's why I enjoy it. I would definitely like to do it again in the spring."
Leave a Comment
Donate to The Lion's Roar
Your donation will support The Lion's Roar student journalists at Southeastern Louisiana University.
In addition, your contribution will allow us to cover our annual website hosting costs.
No gift is too small.
About the Contributor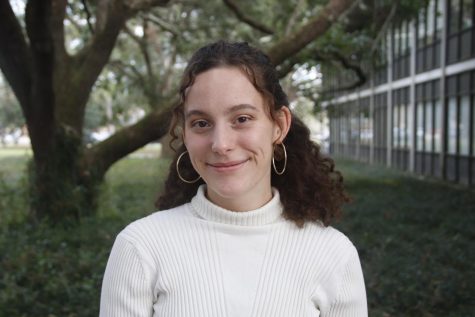 Elana Guillory, Yearbook Editor
Elana Guillory is an art major and lives in Ponchatoula. She worked as a reporter for The Lion's Roar from the fall of 2019 until April 2021, and now she...