Vendors share their viewpoints of Starry November Night
While many families gathered downtown to take part in a holiday tradition, several vendors provided goods for sale, each business having their own reasons to attend.
Coordinated by the Downtown Development District, the 15th annual Starry November Night took place on Nov. 15 from 5:30 – 9:30 p.m. Vendors ranging in trades – from jewelry makers to plant specialists – showcased their goods for attendees to view and purchase.
Joey Hoyt, owner of Southern Sportsman, brought his company to the event to sell apparel including hats and T-shirts. 
A resident of St. Francisville, he explained that another vendor, owner of Magnolia Mound Karol McKean, invited him to the event.
"We actually do some festivals together, and so this is my first year," said Hoyt. "So, I just wanted to come see what it's like."
A native of Amite, McKean has attended several Starry November Nights in the past. 
On top of the enjoyment she experiences from this event, McKean shared that making jewelry is her part-time weekend job.
"I'm a nurse by trade, but I make jewelry, and I sell jewelry and purses," explained McKean. "A lot of the stuff that I have out here tonight is handmade jewelry."
Ponchatoula native Videt Catania, co-owner of KatanYada, also sold handmade jewelry at the event.
A vendor at the weekly Hammond Farmers Market, Catania discussed that she and her husband David are rock collectors, and her husband crafts the rocks into jewelry.
"The metal that he puts around it is all sterling silver," said Videt Catania. "We're the only one that does it in this particular kind of market."
Owner of ION Soaps Chris Kurko, a resident of Denham Springs, explained that his business sells over 75 different types of soaps as well as other health-related products.
Kurko noted that the atmosphere of the event was very welcoming and friendly.
"We wanted to come out here because it seems like the younger generation are in college, there's business folks here," said Kurko. "They all just came and seem like they have a really good atmosphere, and we're actually thinking about moving out this way."
Louisa Landwehr, owner of Petalsmith, is another vendor who regularly attends the farmers markets on Saturday. 
Landwehr explained that since herbs and perennials do not grow well this time of year, she got creative when choosing items to sell to customers.
"I brought out simple things – living plants nonetheless – succulents and tillandsias and incorporated them into ornaments and holiday gifts and décor, and also some winter bulbs that bring spring flowers," discussed Landwehr. "So, they're perfect to plant right now. All the items I brought in are great gifts and plants and easy to carry home, except for the Christmas trees."
Landwehr shared that although people are more laid back on Saturday mornings, she enjoyed the energy at Starry November Night.
"It's a great crowd," noted Landwehr. "I think I've seen more kids and a slightly different mix of people than we'll get up at 8 or 9 o'clock in the morning on Saturday, but everyone's having a really great time."
Videt Catania explained that the holiday spirit incorporated into the event made it a good time to sell jewelry.
"This is the Christmas season, and everybody loves to get jewelry for Christmas," said Catania. "So, we thought, 'Well, we like supporting our local economy. We'll come out here and sell some stuff so we can give 'em tax dollars.'"
Attending for the first time, Hoyt noticed that the event had a feeling of togetherness.
"It's already a close community – it's a college town," shared Hoyt. "I just think it brings the town together."
Having visited many of these events in the past, McKean enjoyed another experience at Starry November Night.
McKean said, "It's a great event for us to come out and show what we have and to meet and do some networking, and I'm just thankful to be able to be here."
About the Contributor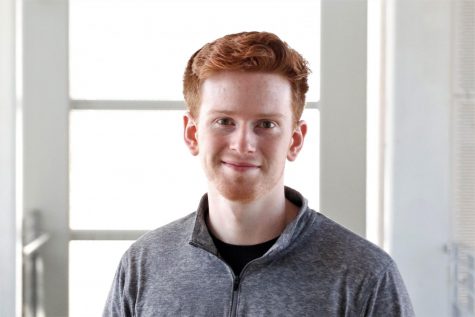 Jacob Summerville, Editor-in-Chief
Jacob Summerville, a history and political science major, has worked at The Lion's Roar since September 2017. A native of Greenwell Springs, LA, Jacob...