Bourgeois and Elliott surprised with awards in campus roles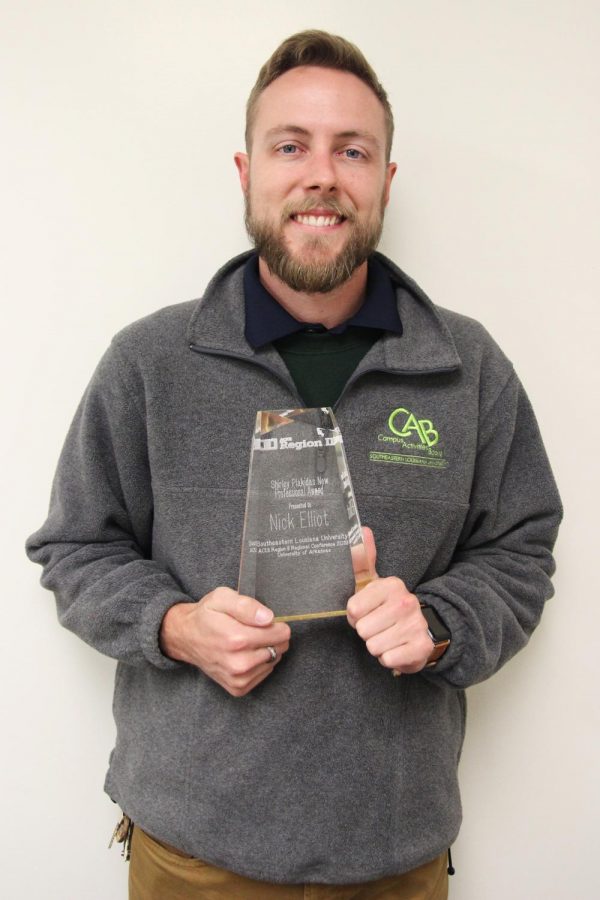 A university faculty member and an alumnus received regional awards for their leadership and their contributions to campus.
Neil Bourgeois, university alumnus, and Nick Elliott, Interim Assistant Director of University Programming and Student Organization Development, received awards at the Association of College Unions International Region II Conference on Oct. 26 at the University of Arkansas.
Elliott received the Shirley Plakidas New Professional Award, and Bourgeois received the Graduate Rising Star Award.
According to ACUI, the Graduate Rising Star Award "recognizes two student union or student activities students, one undergraduate and one graduate, at a Region II member institution who have made significant contributions through employment, volunteering, programming and/or other union-related activities."
The Shirley Plakidas New Professional Award presented to Elliott, according to the website, "recognizes a student union or student activities professional of a Region II member institution who has made a significant contribution to the advancement of ACUI during their first five years of service in the region."
Neither of the awards can be applied for, and it is up to colleagues to nominate each other. In this case, Bourgeois nominated Elliott, who was unaware of the nomination.
"It's awarded based on nominations, and the nominee completes the application for you," explained Elliott. "And I found out that Neil Bourgeois, after I had won it, that he nominated me. He did ask me several questions. He asked me for my resume, he said he was working on a project."
Bourgeois was also unknowingly nominated by Victoria Culver-Rice, assistant director of student engagement at Missouri State University, where he currently attends graduate school. The award he received served as confirmation that his dedication and work is recognized.
"It felt really great, actually," said Bourgeois. "You don't do things for the recognition, but I've really been working hard and for someone to see it and basically recognize all the work that you put in is great. The person that nominated me is my current supervisor. I do try to do the best that I can at my job. I'm a graduate student, and I am balancing school and classes and work. So, it's really confirming that I'm in the right field."
Bourgeois elaborated on why he felt Elliott was deserving of the Shirley Plakidas New Professional Award for which he nominated Eliott.
"Nick is everything a student affairs professional should be," explained Bourgeois. "He encourages, but also challenges his students to reach their potential. He pushed me during my time at Southeastern and is a major reason why I pursued this field and a huge reason why I chose Missouri State University for grad school. He is student affairs professional goals."
To Elliott, his involvement in the university's activities and leadership roles provides additional education to his degree, as well as a support system and networking opportunities.
"It gives me a broader perspective of leadership from multiple institutions," said Elliott. "It gives me continued education. Since I'm no longer in school, my involvement is how I build my network with other professionals in the field and see what they're doing at their institutions, and see how we can improve at Southeastern. It's also just a great way to build a network of people that you can rely on."
Bourgeois described that while obtaining a degree should be a student's main priority in college, campus involvement can highly enhance the time spent doing it.
"We go to college for our degree, and we get your degree to go into the work-force, and that is our priority," said Bourgeois. "But the experiences you have in co-curriculars and the experiences in being involved, it's where you get to really amplify what you learn in the classroom. That's where you get to work with leadership and teamwork and those skills that really can't be taught. I think it really enhances what you do at college, and it enhances your college experience."
About the Contributor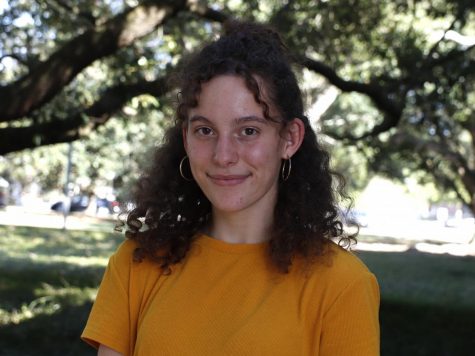 Elana Guillory, Staff Reporter
Elana Guillory is an art major and lives in Ponchatoula. She worked as a reporter for The Lion's Roar from the fall of 2019 until April 2021, and now she...