An app for students, by students
To assist everyone on campus, university students have released an application that places all campus resources in one location.
Damodar Dahal, a senior computer science and mathematics major, has unveiled the beta release of an app for the university called PortableLion.
Dahal began work on the app at the start of summer 2019. He shared that he needed something to do while looking for work.
"I started thinking about what I could do, and the simplest and quickest answer was to make an app for Southeastern," said Dahal. "So, I started working on it, and I sent it to my professor Ray DeJean. He's a computer science professor."
PortableLion was created to target three audiences, according to Dahal: first-semester freshmen, returning students, and visitors. To accommodate his audiences, Dahal included many features targeted at those demographics.
"The purpose of the app, which we call PortableLion from now onwards, is to help the students navigate around the campus through, for example, Lion Traxx," explained Dahal. "Also, to make it easy to use the most used systems such as LEONet, Moodle and so on."
Dahal also included other features including weather, emergency tweets from university accounts, event dates and times, an interactive map with parking, buildings and transport overlays and hours for dining locations and university services on campus.
Dahal explained that the app will not be replacing any current websites that the university has, but will instead be an additional offering of the university.
"It's actually a complementary feature to Moodle and LEONet," continued Dahal. "Moodle is focused with classes, grading, assignments and so on. LEONet is more focused on enrollment, like student enrollment and all the features, whereas the PortableLion app will be like a mobile app for Southeastern where the student can get news of the university."
Dahal shared that the creation and approval of the app was a group effort.
Another computer science senior, Aakash Amatya, contributed to the completion of the app, as well as many faculty members.
The approval of the app began with Dahal's computer science professor, then worked its way up to the University President, Dr. John Crain.
"It was from my professor, from Ray DeJean, to Dr. Asoodeh, the chief information officer, to the president in a staff meeting where I presented the app during the first week of August," shared Dahal. "After that, in the presidential staff meeting they approved the making of the app, and an application has been started to make PortableLion the official app for Southeastern."
Dahal's plans for the immediate future still revolve around the app. He shared that the path to completion of the app is far from done.
"My plan is to make this a useful app," shared Dahal. "Right now, it's just an app. We don't have any users, but right after we start getting the users, there are going to be a couple problems we need to solve as with every other software, and my plan is to discover and solve those problems and to make the app as useful as possible to as many people as possible."
Dahal revealed what makes him excited about releasing the app.
"It is definitely exciting," said Dahal. "I think this app will help the students and that part is even more exciting for me. When somebody else gets some kind of help through something I've made, that gets me the best kind of excitement, the happiness and satisfaction."
Brian White, a freshman music major, gave his opinion on the app.
"It is phenomenal," said White. "It has all the things a Southeastern student would need, from FAQ's to the route of Lion Traxx. It has it all."
The Lion's Roar news and upcoming campus events are also available on the app.
Though the app is still being worked on, PortableLion is currently available on both iOS and Android in its beta release stage.
Leave a Comment
Donate to The Lion's Roar
Your donation will support The Lion's Roar student journalists at Southeastern Louisiana University.
In addition, your contribution will allow us to cover our annual website hosting costs.
No gift is too small.
About the Contributor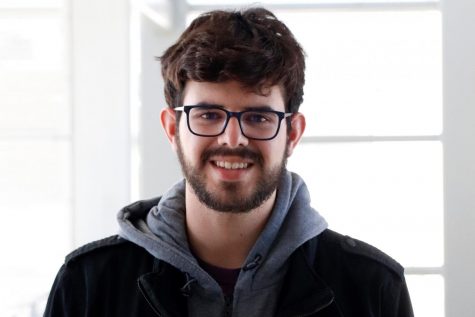 Jacob Lofton, Staff Reporter
Jacob Lofton is a music education major from Prairieville. He has been a staff reporter with The Lion's Roar since the Fall of 2019 and spends his spare...