When a staircase becomes a stage
Live performances, beverages and an intimate atmosphere have attracted Hammond's residents to the Hammond Regional Arts Center for the past three months.
The HRAC's most recent series entitled "Playing the Staircase" has featured local musicians on the last Friday of each month since this past June. Maureen Joyce, executive director of the HRAC, said that the board that reached out to local musicians was "looking for originality, looking for diversity within their genre and sound, and a certain level of musicianship."
Their latest performer was Ameal Cameron who showcased his talent on Aug. 31 at 6 p.m. He performed songs from his premiere album "Ameal For 2" along with a couple of cover songs.
Graduating from the university last fall with a degree in art, Cameron shared that he embraced his niche for music while in his high school choir.
"People started liking me then, so that's when I started," said Cameron. "I picked up guitar, and I started honing my craft."
Cameron said that creating his album was unique since he was the only one involved in its creation.
"I did it all myself: production, recording, mixing, singing, guitar, all the instruments," said Cameron. "So, that was fun."
Stemming from his music production experience, Cameron stated that he wants to mold his career around music.
"I would like to become a recording artist and make a living through music," said Cameron. "I definitely see myself in the future doing this."
Cameron described the first track of his album, "Dear Someone," as one of his loneliest songs.
"At that time, I was feeling really sad, almost depressed," said Cameron. "I didn't feel like I had friends."
Cameron shared that his parents and friends have been a support system during his performances. He said that they travel between Hammond and Baton Rouge to see him play live. Cameron has performed in New Orleans a couple of times as well.
Cameron explained how he liked the atmosphere of the HRAC since he feels his music is more acknowledged.
"I appreciate that people come to listen because I sing at a lot of restaurants and bars," said Cameron. "So, it's like you're background noise. Having people actually pay attention is great."
Currently, Cameron shared his music on iTunes, Spotify and YouTube.
Although "Playing the Staircase" is halfway through its six-month run, Joyce thinks the future of this series will be a bright one.
"The board decided to try it out for six months and see what it would be like, and I think it's going to be a success," said Joyce. "We haven't officially met yet, but I think we're going to vote to book another six months."
About the Contributor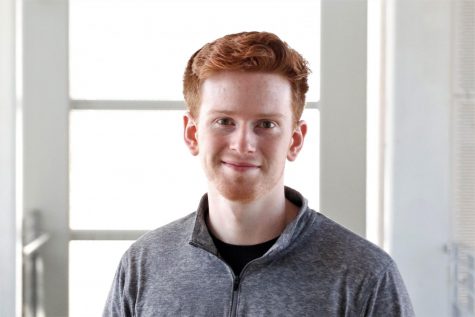 Jacob Summerville, Editor-in-Chief
Jacob Summerville, a history and political science major, has worked at The Lion's Roar since September 2017. A native of Greenwell Springs, LA, Jacob...