Selling art that holds a practical purpose
A kitchen does not have to be filled with plastic cups and store-bought vases.
Handmade mugs, jewelry, pots and plates serve a conventional purpose to consumers while upholding the artistic flair of any other artwork.
Helene Fielder, owner and founder of Bumble Bee Pottery, sells teapots, platters, vases and other goods on her website. Out of all her practical artwork in her store, mugs sell the best.
"Everybody can use one," said Fielder. "They're a wonderful gift. I think any potter can make a living from mugs if that's their one thing."
Fielder owns an additional website, Pottery By Helene, where she markets more traditional art to galleries and collectors.
Although she does sell her art, Fielder's passion is what drives her creation process.
"If I'm wanting to do a sculpture, then I don't think about the sales part," explained Fielder. "I just do that for the pleasure, and if it sells, it's wonderful."
Mary Smith, a member of the Hammond Art Guild, has featured her pottery in the Hammond Regional Arts Center and sells her pottery at Nest Interiors in Ponchatoula.
Smith explained that she showcases her art at other locations and on different mediums.
"I have participated at other venues including LSU Research Station, Hammond Farmers Market, and private sales on Facebook, Instagram and Pinterest," shared Smith.
Tara Bennett, media coordinator for the HRAC, explained that "Fine and Functional" showcases works including sculptures, wood, glass and jewelry. In addition to HRAC's event, Bennett shared that she enjoys functional art because of its additional purpose.
"Right now, I have on my desk a one-of-a-kind ceramic business card holder that I use practically every day," discussed Bennett. "So, I receive beauty and pleasure in looking at my piece of art while doing my job at the same time."
Fielder shared why she would rather visit a local craftsman than a jewelry store.
"I'm always flabbergasted that anyone would go into a jewelry store," expressed Fielder. "There're 20 rings that look exactly the same, and there's no hammer mark. It doesn't even have that handmade feel when they can go through an artisan, a bench jeweler, and get a unique, one-of-a-kind piece that has so much life in it. I would think a really good jeweler couldn't be able to keep up with the demand because they're so special, that good jeweler that makes everything by hand."
With over 30 years of experience working with clay, Fielder explained that any functional artistic creation that gets sold contains a part of that person's identity.
"A mug handmade by a student has way more life than something that's been manufactured because a little bit of that person is in that piece, and I think the user, the one that's drinking out of it, feels that," said Fielder.
To Fielder, developing one's own style of pottery is important since there are so many potters on the market.
"When you're wanting to make your own line of pottery, try to create or design something that is true to your aesthetic or a much different look than a lot of other pottery," discussed Fielder.
For those aspiring to sell their functional art and achieve success in the industry, Fielder shared some advice that she received from Steven Hill, owner of Steven Hill Pottery in Independence, Missouri.
"You don't have to be the most creative," explained Fielder. "You don't have to be the best drawer. To be successful, you have to work. You have to have maybe one good idea, but you become really, really good at that one thing. You can't work eight hours a day. You have to work while other people are going out late at night or going out all the time – you're in the studio working."
About the Contributor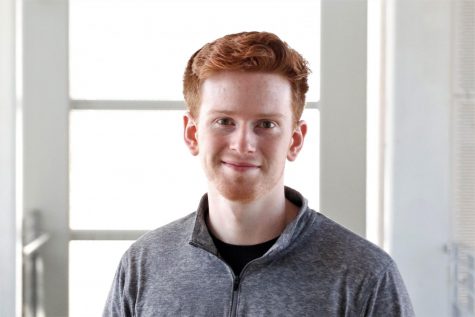 Jacob Summerville, Editor-in-Chief
Jacob Summerville, a history and political science major, has worked at The Lion's Roar since September 2017. A native of Greenwell Springs, LA, Jacob...