Entrepreneurs gain real world experience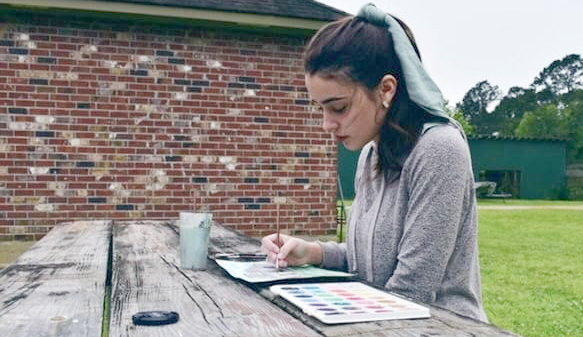 Imagine having the struggle of running a business while also being a full-time college student.
Many students know the struggle of keeping up grades, attending class regularly and the late nights study struggles. Some students also take on the role of running a business while managing a heavy work load.
Aaron Tuminaro, a junior business management major, owns a snowball stand called Sweet Peak Sno-Balls which began at the end of August in 2018.
"I decided to start the business because my major is business management with a focus on entrepreneurship," explained Tuminaro. "So, this is a way to get my feet wet, plus me and my siblings have always wanted to work together, so we are co-owners of the business."
Kathryn Mancuso, a junior business administration major, has owned a business called Kat's Creations since the December of 2017, where she creates her own custom art work.
"I decided to start my business because I simply love doing all different kinds of art, and it's been a way to make extra money throughout college,"said Mancuso. "I wanted to be able to bring people's ideas to life through my artwork and I wanted to show people that you should never limit yourself to just one thing."
Both business owners struggle with academics and the managing their businesses.
"The hardest thing about doing a business is finding the time to complete orders while in school," explained Mancuso. "I have to have a pretty organized schedule to be able to complete orders on time as well as my own school work. Being organized and having great time management skills is key to managing a business like this."
Turminaro feels making the best financial and allocative decisions is tough.
"The reason why this becomes a struggle for our business is because we are still small and have to make sure that we are utilizing our recourses in the most effective ways possible," said Turminaro.
Mancuso enjoys running her own business.
"I am my own boss, and I don't think it gets any better than that," said Mancuso. "It can be a little stressful at times due to the fact that I am balancing my art business and school at the same time, but I wouldn't have it any other way."
Not only do their businesses teach them about their major, but also teaches them important life lessons.
"The most important thing I have learned so far aside, from all of governmental regulations, is learning to work with my siblings to make sure the business runs as smoothly as possible," said Turminaro. "We continue to learn that daily."
Mancuso feels her business is becoming successful.
"I would say I have been pretty successful considering I have consistently had some type of order since August 2018," said Mancuso. "During the first six months of my business, I was mainly trying out different types of art for myself, then promoting it on social media. From there, the orders slowly started picking up."
Leave a Comment
Donate to The Lion's Roar
Your donation will support The Lion's Roar student journalists at Southeastern Louisiana University.
In addition, your contribution will allow us to cover our annual website hosting costs.
No gift is too small.