Burns to play at HRAC
Dr. Joseph Burns, professor of communication, will be showcasing his musical prowess at the Hammond Regional Arts Center.
Burns said that he will present a mixture of original and cover songs in the series "Playing the Staircase" on Friday, Sept. 27 from 6-8 p.m. at the HRAC.
"I like to be very busy when I play," said Burns. "So, I have lots and lots and lots of chord changes and big chords and such, so I always pick those. One of my favorites is 'Help Me' by Joni Mitchell."
He will play two songs that he performed at Hot August Night called "Hot August Night" and "Yankee in the South," and he will also be performing a brand-new song called "The Top of the Stairs."
"I've got a bunch of other ones that I play all of the time that I'll come out and play," explained Burns. "A lot of them are meant to be humorous – I don't get real, real serious."
Burns will be playing a solo act, explaining that his accompanying singer, Naomi Narcisse, is having a baby around the time of the performance.
"The Steps, which is the 27th, I think is just about the due date of the child," said Burns. "I asked her about it, and she said, 'I think I may be a mother at that point in time.' We played about a month and a half ago at Gnarley Barley, but this one is going to be me, six strings and a microphone."
Having an office space dedicated to music, Burns shared that he does not remember a time in his life without music being an influence.
Burns shared a childhood memory of when he first started to learn guitar when he was 8 or 9 years old.
"My mother decided to take guitar lessons," explained Burns. "She would try, try, try, try – I'd pick it up, and I'd have it in five minutes. This happened for about a month and a half, this old, box Stella guitar, and I remember my father saying something like, 'You know Delores, the kid's getting it in 10 minutes. Maybe we should just let the kid have the guitar.'"
Throughout his life, Burns has enjoyed performing music and songwriting.
"It's difficult to explain to someone who doesn't play an instrument the joy you get from doing it," discussed Burns. "Why do I write songs? I have things to say, I truly, truly enjoy the idea of putting together words in an interesting way and such, and I'm sure as most composers will tell you: for every song you hear, they've written seven, eight."
Originally from Columbus, Ohio, Burns shared that the music scene in Louisiana is very dense and competitive yet generous and encouraging.
"Everybody plays, and if you expect someone to listen to you, you better be on point," said Burns. "You better know what you're doing, and I adore that, I really do. I love the camaraderie down here. The musicians are all wonderfully helpful. I have some of my best friends through creating music – it's fantastic."
Admission for "Playing the Staircase" is $5, and the funds go directly to the artist. For more information, visit the HRAC website.
Leave a Comment
Donate to The Lion's Roar
Your donation will support The Lion's Roar student journalists at Southeastern Louisiana University.
In addition, your contribution will allow us to cover our annual website hosting costs.
No gift is too small.
About the Contributor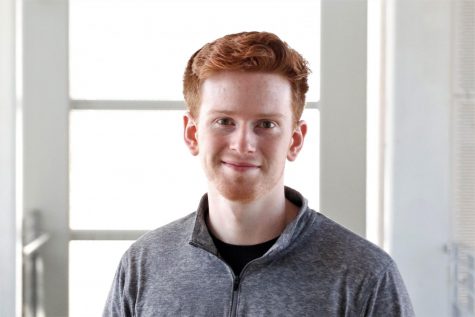 Jacob Summerville, Editor-in-Chief
Jacob Summerville, a history and political science major, has worked at The Lion's Roar since September 2017. A native of Greenwell Springs, LA, Jacob...