Vehicle maintenance can help ensure driver's safety
Taking proper care of one's vehicle is just one of the ways that a driver can maintain their safety while on the road.
To avoid car troubles, drivers should make sure to routinely perform certain maintenance tasks, such as changing their oil, rotating their tires and making sure all of the vehicle's lights are working properly.
Raymond Williams, manager of The Tire Choice Auto Center in Hammond, explained that different vehicles will require oil changes at different times.
"Certain vehicles recommend every 3,000 miles," said Williams. "If you're using synthetic oils, then go for every 5,000 or 6,000  miles."
Changing a car's engine oil will help the engine last longer. Neglecting to change the oil could result in the engine stopping altogether, which can cost up to several thousand dollars to fix or replace. Most mechanic shops and care centers offer oil changes along with other vehicle maintenance services.
In the case of an oil leak, the oil may simply need to be replaced rather than changed. Fixing an oil leak can be very expensive, and older car models tend to leak more than newer ones.
Williams also encourages drivers to rotate their tires every 5,000 miles, or at least every other oil change. Tire rotation consists of simply switching the placement of a set of tires on a vehicle to limit the wear of the tires. This is not the same as changing a tire, which consists of replacing an old tire with a new one. Many auto service centers offer free tire rotations with the purchase of a set of tires.
Routinely checking that a vehicle's lights are functioning properly can also help ensure a driver's safety, especially for those who drive at night when visibility is low.
Taking good care of a vehicle can help prevent a car from breaking down at an unexpected or unwanted time. In case of an emergency where a driver is forced to get off the road, Williams described what steps should be taken to ensure the safety of both the driver and the vehicle.
"First thing you'd want to do is pull over to a safe spot where you're not in the way of traffic and put your hazard lights on, then carefully exit your vehicle," explained Williams. "Take a quick walk around, see if you can see the problem. If not, raise the hood, make sure there's no smoke, no burning, no fire, nothing seriously wrong with it. Then I would recommend if you have any Roadside Assistance on your insurance, give them a call and explain the situation."
Drivers should also make sure their vehicle inspection stickers don't go past the expiration date in order to avoid getting a citation. In the state of Louisiana, certain parishes require that inspections are conducted in the same parish that the vehicle is registered in. A complete list of inspection requirements can be found on the Louisiana State Police's website at lsp.org.
Leave a Comment
Donate to The Lion's Roar
Your donation will support the student journalists of The Lion's Roar at Southeastern Louisiana University. Your contribution will allow us to cover our annual website hosting costs. No contribution is too small.
About the Contributor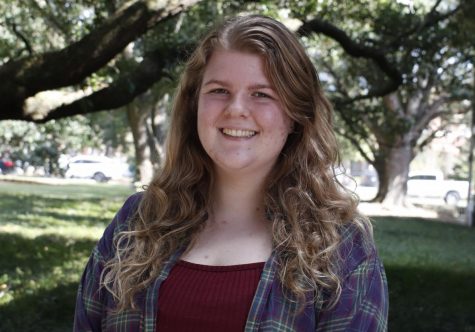 Maggie Tregre, Co-Editor, Le Souvenir Yearbook
Maggie Tregre is an English education major from Baton Rouge, LA. She worked as a staff reporter and editor-in-training for The Lion's Roar from September...