Music Concentrations allow students to advance their abilities
The university offers several ways for students who are interested in music to express themselves.
Music majors have the option to choose one of five different concentrations: vocal performance, piano performance, vocal education, instrumental performance and instrumental education.
Each of these concentrations allow students to focus on a different element of musical performance or education in order to suit their talents.
Jasmyn Green, a freshman music major, is currently seeking a concentration in vocal education. She explained how her concentration differs from the other concentrations.
"My concentration is more geared towards learning how to educate others on vocal performance," said Green. "Singing has been a huge part of my life from a young age, and I started vocal coaching kids when I was 14 years old. So, when it came time for me to choose a major and an occupational field I wanted to grow and develop in, for me there was not really any other answer."
Green also explained how the community of music majors differs from those of other programs.
"We see the same students and faculty everyday, causing us to get to know the people in our classes and build strong friendships with them," shared Green. "I have had some people from other majors tell me that they don't even know the names of the people in their classes, let alone building relationships with them."
The university also allows students to pick more than one concentration so that they can better focus on their individual skills.
Chrissy Weber, a freshman music major with a double concentration in vocal and piano music education, described how having a double concentration is beneficial to her..
"I am able to strengthen my skills in both vocal music and piano music," said Weber. "I am able to be on stage as a singer in one instance, and then I am also able to be the one accompanying a singer on the piano."
Weber chose to have double concentration because of her passion to educate students about music.
"I decided to pursue a double concentration because I have been a pianist for as long as I can remember, and I eventually started to sing while playing the piano at family functions and events,"said Weber. "Music is my passion, so my goal in life is to guide students to love music and find their own passions as well as shape their lives."
In addition to providing concentration in music education, the university also offers students the chance to pursue concentrations focused on improving their own personal skills.
Katherine Cousins, a freshman music major with a concentration in vocal performance, explained how her talents differ from her peers and how her concentration helps her improve.
"My instrument is my voice," shared Cousins. "Unlike other concentrations within the music program. The vocal performance concentration helps me to specifically work on my vocal ability. I am solely focused on the performing aspect of music, not necessarily how to teach it to others."
Cousins also explained how her experience in the program has been so far and why she chose her concentration.
"It has always been a dream of mine to perform, whether it be theatre, musical theatre or singing, " said Cousins. " I also chose this major because it gets you more comfortable with presenting yourself in front of people, which will be a big part of the job I am going on to after college. The people I have met here and the experience I have gained are very valuable and will help me greatly in my future career."
For more information regarding music majors and concentrations, please visit the university's website..
Leave a Comment
About the Contributor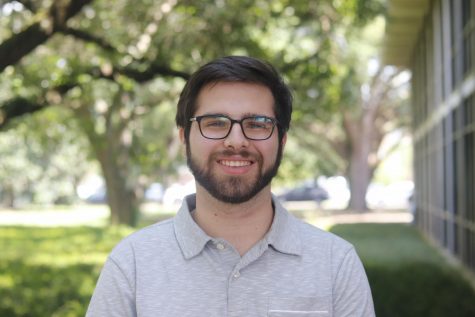 Dylan Meche, Opinions Editor
Dylan Meche is a Political Science major from Baton Rouge and serves as Opinions Editor. He has been a reporter for The Lion's Roar since August of 2019....