Durand Jones and the Indications perform at Columbia Theatre
Durand Jones, a university alumnus, recently returned to Hammond after touring internationally  with his band, Durand Jones and the Indications.
The band performed on 'Jimmy Kimmel Live!' on the March 29, 2019 show. The band continued to tour around the U.S. before taking off for a European tour in Aug. Jones recalled his experiences on the tour and how they influenced him as a musician.
"The European tour was amazing," said Jones. "I look back to where I was last year and I think I'm singing better. I'm performing better. I'm in a better place spiritually. The crowd's out there, they go absolutely wild over soul music. It's the only time in my career so far where I really feel like a celebrity. I've really had the opportunity to find the things that I really vibe with out there, and that's pretty dope."
As a student, Jones was a part of several musical programs as well as other performing opportunities on campus.
"I did Southeastern STAR," explained Jones. "Whenever I would see fliers for student-run plays, I would go and audition and try to do that. I worked in the theatre department. I did gospel choir while I was here and always join and start a band with friends, and we'd go and play in bars and around town and that was cool too."
Now that he has returned to Hammond, Jones reflected back on his time at the university.
"It feels nostalgic," described Jones. "I can remember being here and doing Southeastern STAR and singing with different groups around campus and to be back in this way feels like a dream come true. There's so much more that I want to do in my life. I feel like this is a step in the right direction to getting to do those things."
Jones reflected on why he believes it is important for alumni to return to their alma mater and give back to their communities.
"If you're successful, you've got to give credit to the institution that allowed you and provided you those opportunities," explained Jones. "I stand on the shoulders of some great people who really encouraged me, who really saw something within me that I didn't see within myself during those times and so I just really wanted to give back."
Jim Winter, artistic director for the Columbia Theatre for the Performing Arts, explained why he thinks alumni involvement in Hammond is important for strengthening the community.
"A healthy relationship between the university and the community at large greatly strengthens both," stated Winter. "Southeastern is a 15,000 plus student center for higher learning in the heart of Hammond.  The university, its students and its employees have a tremendous impact on the economy and culture of the city."
Winter went on to explain how his position at the theater can help alumni reconnect not only to the university, but also to Hammond.
"I love seeing Southeastern alumni involved in our community," said Winter. "They are giving back by lending their considerable knowledge and talents to a place that was very formative in their education. That's one of the things I love best about the Columbia Theatre.  We are uniquely positioned to represent the best of what both Southeastern and the surrounding community have to offer."
Jones named some of his biggest musical inspirations who have influenced him since his days as a student.
"I can think of being back here at Southeastern and being broke, having to go to the 24-hour lab every day because my laptop was broken, and I would listen to Nina Simone all the time," said Jones. "I loved that she was a classical musician who veered into the world of soul music because that's what I feel. My background is in classical music, so that really resonated with me."
Some of Jones' other inspirations include both classical and jazz musicians.
"Some classical guys that really mean a lot to me would be Otis Murphy," stated Jones. "Jazz, Cannonball Adderly definitely comes to mind. Chad Baker, Anita O'Day, the list goes on and on. I could just list so many musicians, but that's the beauty of it, you can never stop learning, you can never stop growing within this."
Leave a Comment
Donate to The Lion's Roar
Your donation will support the student journalists of The Lion's Roar at Southeastern Louisiana University. Your contribution will allow us to cover our annual website hosting costs. No contribution is too small.
About the Contributor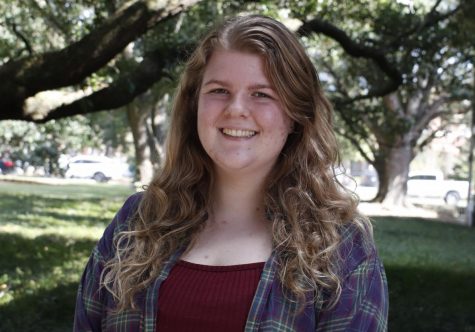 Maggie Tregre, Co-Editor, Le Souvenir Yearbook
Maggie Tregre is an English education major from Baton Rouge, LA. She worked as a staff reporter and editor-in-training for The Lion's Roar from September...