International student-athletes try to make mark in the US
The university is home to over 250 international students. These students represent over 70 countries around the world.
Some international students are a part of the university's athletic programs.
Putri Insani, a sophomore accounting major, is a member of the tennis team. A native of Jakarta, Indonesia, Insani first came to the U.S. in 2018. Insani explained how she began playing tennis.
"When I was four, my dad, he played tennis and then my brother played tennis," said Insani. "I was going with them to the court. In Indonesia, the schools don't really depend on sports. Sports and school are two different things, so I didn't play for my school."
Insani described how being a member of the team has allowed her to make connections and succeed in school.
"Sometimes when you have practice in the morning, and then you go to school, it's kind of exhausting, but everything's good," explained Insani. "The girls are going to help me with school. I really like it here and I feel like I'm lucky here because I hang with my friends after school and we really get along with each other, and they just came together when we're on the court."
Tilly Hallas-Potts, a junior defender for the women's soccer team, is from Sheffield, United Kingdom. She explained why she decided to attend the university.
"I went through a company who got to me to a showcase where different coaches would watch you either online or would come over from America and watch you," explained Hallas-Potts. "Coach here approached me and this was my best offer. I liked the coach and I liked the facilities, so it was an easy choice."
Hallas-Potts described the difference between being a student-athlete in the U.S. versus in the United Kingdom.
"So back home, sports and college don't connect, so if you go to university back home, then you do university and you play for a different team," said Hallas-Potts. "But here, they understand it's a lot more, so it's easier to balance both your work and your sport."
Overall, Hallas-Potts feels like she has been able to handle the responsibilities that accompany being a student-athlete.
"There's a lot of sport here, so when you play and also do your degree, I've never felt like I've had any problems or been lost or anything like that," commented Hallas-Potts. "I'm hoping to play in the WSL when I go home, which is the Women's Super League, or maybe to play somewhere in Europe, so hopefully this gives me a boost to be able to play when I graduate."
Insani shared that if someone has the opportunity to study in the United States then they definitely should.
"If you have the opportunity to be in the United States to study, it's really good and you have to take it," said Insani. "There's not many people who have this chance and I'm lucky to be here."
Leave a Comment
Donate to The Lion's Roar
Your donation will support the student journalists of The Lion's Roar at Southeastern Louisiana University. Your contribution will allow us to cover our annual website hosting costs. No contribution is too small.
About the Contributor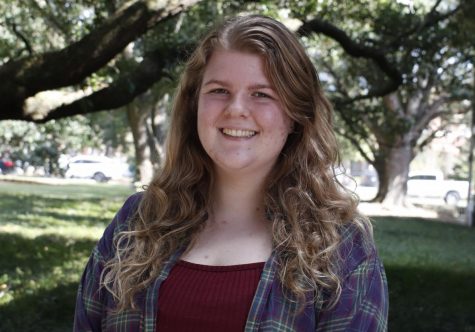 Maggie Tregre, Co-Editor, Le Souvenir Yearbook
Maggie Tregre is an English education major from Baton Rouge, LA. She worked as a staff reporter and editor-in-training for The Lion's Roar from September...