University alumnus grows into a local musician
Ameal Cameron, an alumnus and musician, is chasing his dream and having fun doing it.
Cameron has been performing live music at various locations around Hammond, Baton Rouge and New Orleans. He mentioned when he began performing and how his biggest performance was in New Orleans.
"Probably about 2014," said Cameron. "That's when I really felt comfortable playing in front of people. My biggest show was at the House of Blues in New Orleans and I've been playing ever since then."
Cameron has moved from city to city playing at live venues. Over the years, Cameron has started to recognize changes in his performance.
"Yeah, back in 2014, I was getting shows very sparingly, like once a month or once every two months," said Cameron. "But now I get one like once a week. I haven't had to ask my parents for any money. It's much better now."
With the ability to support himself from his music, Cameron has time to enjoy other things in life. Cameron graduated with a bachelor's degree in graphic design and is able to get some use out of it between gigs.
"I do freelance graphic design for anybody who needs a logo or a setup for a brochure," expressed Cameron. "I do stuff like that. I enjoy going to movies. I enjoy outside stuff like farmers markets and flea markets. Festivals, I really like festivals, like food festivals. I like music festivals. Anything where people gather to enjoy things."
He actively plays at various farmers markets around the area, with one of his performances happening at the university's farmers market.
Cameron talked about how he creates his music – the ideas and processes that go into his songs.
"Anywhere to twenty minutes to a week," spoke Cameron. "It depends. But most of the time it usually doesn't take me longer than two days to come up with a good solid first version of a song. But I feel like two days."
Cameron shared what his first steps are in creating a song.
"First I go chords, then like basic melody, then lyrics," shared Cameron.
Cameron's songs have a wide variety of subjects and expressions about current popular topics.
"Anything that usually happens to me, like a funny moment or emotion," explained Cameron. "I have songs about love and jealousy, anger, being scared. I have songs about being at Walmart. Failures. Basically anything that's on my mind at the moment, memes, popular memes, anything that I can think of really."
In 2019, Cameron wrote a song on the internet phenomenon of raiding Area 51.
"I was trying to get that to be that song for that movement," said Cameron.
Cameron enjoys singing covers of songs to which he has taken a liking. He plays a wide range of genres and likes to play his songs based on emotions.
"I like to perform a lot of pop songs and I write my own songs too," commented Cameron. "R&B and oldies. I just released an album in September called 'Cause I Felt Like It,' and it's basically silly songs and I sit in my room and talk about food. Silly stuff like that."
Cameron tries to sing a variety of songs at his live gigs, making sure everyone gets the chance to hear what they like.
"Well, when I do shows I split them half and half," explained Cameron. "I enjoy playing my own songs and having people react to those, but I really love covers too. I really love singing other people's songs, people who influence me. But, if I really could, I'd like to sing my own songs and have people come to my shows for that."
For more information about Ameal Cameron, follow his Instagram @musicbyameal and his Facebook page. Cameron's music can be found on SoundCloud and Spotify..
Leave a Comment
Donate to The Lion's Roar
Your donation will support The Lion's Roar student journalists at Southeastern Louisiana University.
In addition, your contribution will allow us to cover our annual website hosting costs.
No gift is too small.
About the Contributor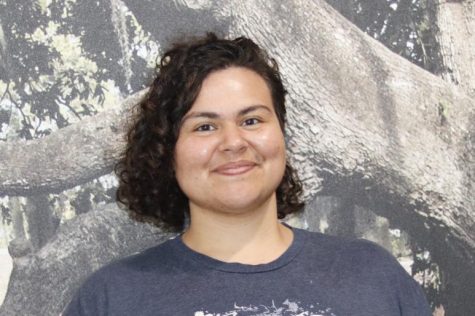 Samantha Gambino, Staff Reporter
Samantha Gambino is a Visual Arts major from Slidell. Samantha has worked on The Lion's Roar as a Staff Reporter since Fall 2019. She enjoys fantasy, science...