Senior art majors exhibit their semester's work
The Senior Art Exhibition presents a chance for peers, parents and the public to observe the product of a semester's work from senior art majors. 
The Contemporary Art Gallery presented an array of pieces from drawing, painting, sculptures and theatre design. The exhibition opened on Nov. 21 and is exhibited from 5 – 7:30 p.m. 
The showcase allowed students to view each other's art out of the classroom. Caitlyn Clark, a senior art major, liked the collaboration she did with other senior art majors to get the final output.
"It's all of our hard work collectively together in one building," stated Clark. "It's sort of interesting that way, to see all the different ideas visually, but seeing our work individually is also cool."
Ben Arie, senior art major, was spectating at the event and admired that the exhibition empowered students to convey themselves through their work.
"We are free to express who we are here," stated Arie.
For some students, having their loved ones walk through the exhibit has just as much, or more sentimental value to them as the traditional graduation ceremony. Chandler Damrill, a senior art major, expressed the value of the event through his perspective as a soon-to-be graduate.
"I believe this senior show really is kind of an art student's graduation," explained Damrill. "Other grad students, they have their cap, gown and walk, but to us, this is the combination of what we've accomplished and what we've been able to come up with over a space of time. It's like a magnum opus of this moment."
The exhibit  will remain open to the public through Dec.14 and will be the final chance to view the senior art majors' work as undergraduate students. 
About the Contributor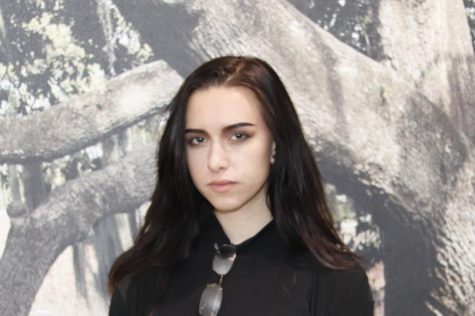 Hailey Bullock, Staff Reporter
Hailey Bullock is a biology major from Albany. She has been with the Lion's Roar since the fall of 2019 as a news staff reporter. Her career ambitions...