Hazing Prevention week kicks off with special guest speaker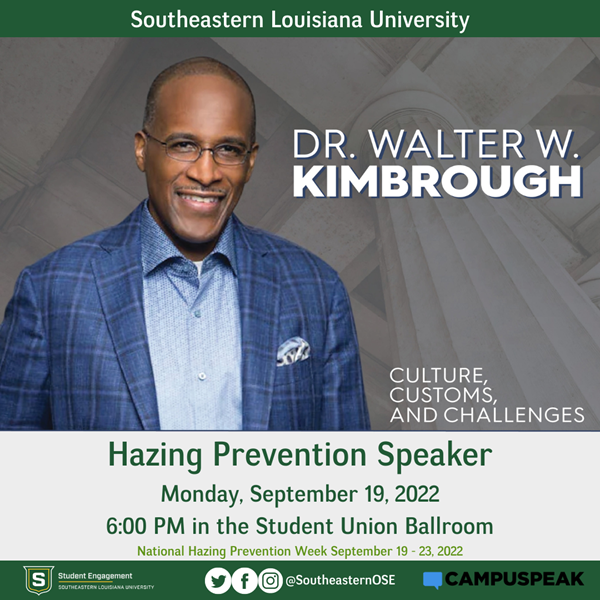 On campuses across the country, hazing is an ever-present threat looming within various student organizations. For National Hazing Prevention Week, Southeastern will be actively promoting and participating in discussions to facilitate hazing awareness and prevention.
Tonight, Southeastern will host former Dillard University President and hazing expert Dr. Walter M. Kimbrough. Kimbrough is now the interim executive director of the Black Men's Research Institute at Morehouse College in Atlanta. 
The event will take place in the Student Union Ballroom at 6 p.m. Aside from tonight's event, there will be tabling events all throughout the week in order to continue disseminating information to the student body on hazing. 
"Hazing is anything that could be used as a method or means to make someone else feel uncomfortable," said William Takewell, interim assistant director of fraternity and sorority life in Southeastern's Office for Student of Engagement. "A lack of care is how it manifests itself on campuses and organizations. We tell ourselves, 'They aren't belonging or worthy of a status, they need to prove it first.'" 
Hazing occurs when current members of a club or organization utilize the promise of new membership as a means for their own entertainment by forcing new members to take part in potentially harmful and humiliating activities.
The lack of care, as Takewell puts it, is a common occurrence throughout U.S. colleges and universities. According to StopHazing.org, a research institute dedicated to the promotion of safe, hazing-free schools and organizations, 55% of students engaged in extracurricular activities report experiencing instances of hazing. On an organizational basis, the percentages range from 20% for activities such as honor societies, to as much as 73-74%, for activities such as Greek Life or varsity sports, according to a study on hazing conducted by the University of Maryland. 
Hazing may take many forms, but it's commonly carried out with the use of alcohol, with new members being forced to drink heavily in a short amount of time. According to UM, 82% of hazing deaths were alcohol-related, including the death of 18-year old Louisiana State University student Max Gruver in September 2017. 
Allegations of hazing involving branding, physical assault, and sexual abuse of female athletes have also surfaced within the NCAA. Such behavior is typical of hazing and can only be eradicated if officials and students work together to snuff out such nefarious practices.
Fortunately for Southeastern, combating potential instances of hazing on campus is one of the primary objectives for the Office for Student Engagement and the Office of Student Advocacy and Accountability, as they work closely with student leaders in order to help them recognize signs of hazing within their organizations. 
According to Takewell, "We want to normalize hazing conversations and differentiate between what can and cannot be done, including registered events with new members, following up with organizations when the potential for hazing could come up during events, and how to report them when they do take place." 
The Dean of Students' hazing policy outlines the specific regulations pertaining to hazing both on campus and statewide, including Louisiana Revised Statute 14:40:8, which criminalizes the act of hazing, making the act punishable by either a fine of "up to one thousand dollars, [imprisonment] for up to six months, or both." The outline also lists organizations to connect with to report hazing such as the University Police Department and University Housing, as well as an anonymous reporting system to the University of Louisiana System for reporters who wish to keep their identities hidden. 
As another hazing week on the Southeastern campus kicks off, it's crucial that students and administrators are proactive about hazing so they have the knowledge and skills to look out for their fellow Lions. 
"Especially on such a small, intimate campus," Takewell said, "we should be able to take care of one another." 
For more information on the events taking place during the week, contact the Office for Student Engagement.
Leave a Comment
Donate to The Lion's Roar
Your donation will support The Lion's Roar student journalists at Southeastern Louisiana University.
In addition, your contribution will allow us to cover our annual website hosting costs.
No gift is too small.
About the Contributor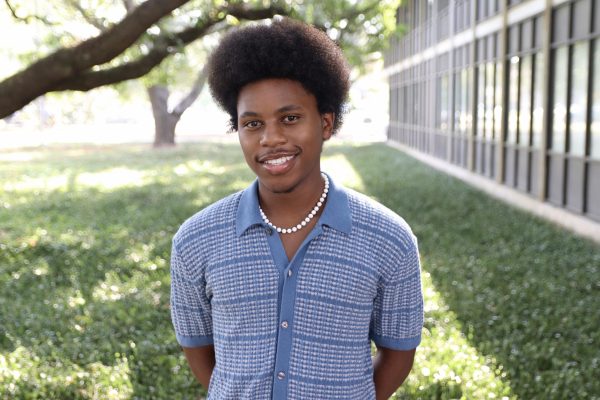 Kennith Woods, News Editor
Kennith Woods is a sophomore Communication major with a concentration in Television and Multimedia Journalism and a Creative Writing minor. A resident...