SLU spirit teams are heading to Orlando for Nationals
SLU's cheer squad and Lionettes will compete at Walt Disney Resort in Orlando, Fla. for the UCA (Universal Cheerleaders Association) and UDA (Universal Dance Association) College Nationals. The competition will be this weekend, Jan. 13-15 starting at 8 a.m. 
The cheer team will compete in the small coed division one where they will showcase the fight song, a situational sideline performance and game day timeout. The Lionettes will compete in the hip hop, jazz and gameday categories in division one. 
These teams have been working nonstop for months in aspiration to "hit" their performances, meaning they would receive zero deductions. 
Catherine Lawrence, coach for eight years and director of spirit for five, said, "Both programs cheer and dance have worked extremely hard all year and have had more fire fueling them than the years past."
Last year, the cheer squad ranked No. 4 in the nation for the small coed division. Additionally, they took home silver in their game day performance. 
Camryn Doty,  a secondary base and second year member of the team, said, "This year, the team has worked so hard since the day of tryouts and we've gotten so many new skills that we can't wait for everyone to see. This year's team has been the hardest working team I've been on and we are all so excited to bring a national championship back to Hammond."
Some of the new skills they are bringing to nationals are, but are not limited to, extended hand in hands, stronger tumbling and elite baskets.
"We hope to be the first small coed team to perform and successfully execute extended hand-in-hands," Landon Fowler, coed stunter and fifth year team member, said.
The extended hand in hand stunt is when a flyer would be hand in hand with their coed stunter and press up into a handstand while both of their arms are fully extended. Then, the flyer will wait on the stunter's dip (which he/she will do with their legs) and inverse the handstand to stand up normally in an extension; therefore, their arms are fully extended throughout the stunt. 
Leigh Henderson, a coed flyer and third year team member, explained the extended hand in hands and double full basket are stunts they incorporated into their routines and they just became legal to perform this year. 
The stunts, tumbling and routine are all elevated in difficulty; however, the team has been putting in hard work through intense practices and are eager to show the judges they can be champions. 
Henderson said, "The most challenging part about preparing for this competition would be the physical effects. We've had legs and arms covered in bruises, head injuries, broken bones and so much more." 
Despite the challenging preparations, the team is ready to crush the competition. 
"Everyone is wanting the same thing: to win a National Championship. I'm very excited to see what we bring to the mat this weekend," Doty said. 
The cheer team isn't the only team that wants to win. 
The Lionettes dance team placed third in their division for gameday, third in hip hop and seventh in jazz last year.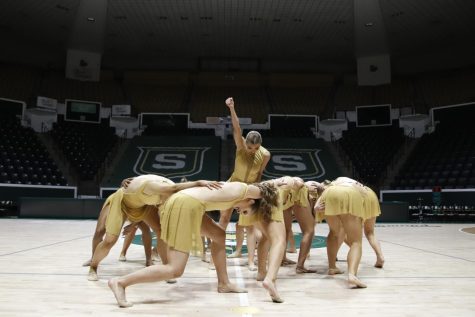 Carlton Carter Jr. has been on the team for two years and said, "We want to strive for near perfection so we can show the judges how clean and precise all our movements are. As we say at practice, 'we want to eat up every full run we do.' We don't want to come back empty handed so we want to bring back a national championship and represent Southeastern to the fullest."
Their goal is to surpass last year's scores in all categories and hopefully take the championship title. 
Similar to the cheer squad, the Lionettes are bringing new skills to the competition. 
Carter Jr. said, "A new skill we are bringing is our partner trick that we do in our hip hop routine. It's the part that motivates us the most because once we hit it in our full runs we feel unstoppable for the rest of the routine."
He added that another skill they have is their team turn sequence in jazz. 
"We work so hard at every practice to match our legs and heads when we turn so we all look in sync and can blow away the judges," he explained.
The team has a motto they stand by which is "We put the work in at practice in Hammond to get the end result in Orlando." 
According to Carter Jr., the most challenging part of preparing for the competition is trying to understand perfection will not happen overnight and each performance/practice requires progress.
Both teams look forward to competing on the mat/stage with their fellow team members and taking home a national championship by "hitting" or "eating up" their routines.  
To watch the performances live or to stay posted with the competition results visit the Varsity website or check @lionupcheer and @lionuplionettes on Instagram.
Leave a Comment
Donate to The Lion's Roar
Your donation will support The Lion's Roar student journalists at Southeastern Louisiana University.
In addition, your contribution will allow us to cover our annual website hosting costs.
No gift is too small.
About the Contributor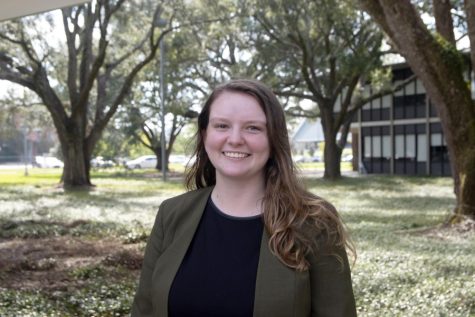 Hydee Holsapple, Copy Editor
Hydee Holsapple is a double major in Integrative Biology and Communications. She loves learning, has an exemplary school spirit and is recognized by the...